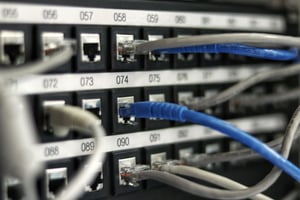 As we are already witnessing, a major national crisis can place new and even unforeseen demands on a range of industries. The COVID-19 pandemic is certainly pushing governments and businesses to think outside the box. While many businesses are closed to prevent social interaction that can spread the virus, some businesses MUST still operate on location.
They don't have the ability to work remotely. In many cases, these include logistics, healthcare, first responders, utilities, construction, oil and gas, and many more. Moreover, hospitals across the nation are also opening mobile testing centers in large commercial venues to speed testing. These remote locations present the need for a reliable and secure Internet connection and IT solution.
As part of an overall continuity plan, here are key IT considerations in a health crisis.
Communication Plans
The normal way of communicating is out the window, at least for now. Some are still working from the same locations, but others are forced to work from home. New mobile workers must be able to stay in contact with employers. Everyone must remain on the same page as events and work-related operations quickly unfold.
While some businesses will have already adopted remote communication technologies, this may be a bold new step for those companies forced to keep a newly-mobile workforce connected and informed. Although using digital communication, a personal touch is even more important now, when face-to-face communication is temporarily curtailed.
Here are some great suggestions, and more can found at the above link:
Private, Social Messaging, and Chat:

Basecamp

Call and Video Conferencing:

Zoom
In addition to adopting new communication channels, companies need to streamline IT communications as much as possible. Additional needs could possibly hinder your network performance. Establishing network redundancy to maintain a constant connectivity is always a first priority. You should also review your network architecture and systems to ensure that it can handle unexpected demands.
Need to Quickly Expand Bandwidth
In light of new, unprecedented demands, the need to quickly expand bandwidth is a likely possibility. Bandwidth is more about capacity than speed. How much more data can be shoved through your network and Internet connection? Are you able to scale it up quickly, as new demands require it?
Some factors may work against your company being able to handle a quick bandwidth upgrade, including an imperfect network design, old equipment, network security issues, noisy neighbor syndrome, WAN capacity, and human error. You have control over some of these issues and can solve them, but others are beyond your control.
Some ways to optimize bandwidth from your existing network include:
Monitor Your Bandwidth Speed and Consumption

Set Your Router to Automatically Reboot

Adjust Your Apps' Settings

Use a Proxy Cache

Regulate and Better Manage Your Streaming

Find the Right Wireless Channel

Get a Wired Connection

Utilize Access Credentials

Continuously Scan for Malware

Update Your Hardware
A means to fix bandwidth problems that is well within your grasp is a Fixed Wireless alternative. Fixed Wireless offers reliable performance at a reasonable cost, and is quickly becoming a recommended choice for meeting the demand of global Internet users and closing the gap in bandwidth demand.
Ability to Quickly Establish Connectivity
In emergency situations such as the present COVID-19 pandemic, many remote testing sites are being set up in areas where the public has easy access. These situations demand temporary connectivity, but with the same demands for a quality connection. This means a reliable, low-latency, secure, high-bandwidth, and ultra-fast connection.
Fixed Wireless is the ideal solution for this type of emergency and/or temporary connection need. Speed matches the best fiber connections, latency is almost nil, bandwidth is easily scalable to needs, and it can be installed fast in virtually any location. Even when expanding permanent locations, Fixed Wireless is the clear choice to get a superior network and Internet connection up and running in record time.
Documentation Management
Network documentation management maintains the records about your company's computer network. IT personnel or network administrators use this data to troubleshoot and repair network issues as they arise. With a growing need for people to work in extreme situations with limited contact, these records are vitally important. Without them, your company is crippled when network problems crop up.
Your IT team needs to be able to access a variety of network records swiftly, especially in extreme circumstances, for a number of reasons, including:
Make information readily available to resolve issues quickly at any location.

Minimize user downtime. Records and drawings facilitate faster repairs.

Understand the layout of your company's network.
Major IT considerations in a health crisis demand options for expanded broadband and scalability. Fixed Wireless is the ideal solution due to its ability to extend Internet and networking services to meet unprecedented demands. MHO can work with your industry or company to provide high-capacity, low-latency, secure, and reliable Internet connectivity through a fast Fixed Wireless installation. Call us today at 877-WANT-MHO for more information.