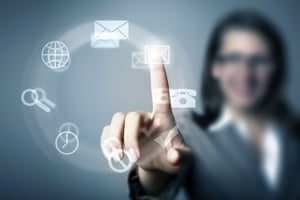 Remember when every form of communication had a personal touch? The primary communication tools of business were the telephone (a landline) and the United States Postal Service. Estimates and receipts were handwritten and given with a smile from a person across the counter. Face to face interaction was common and essential.
Now, don't think personal communication is any less important today. In our high-speed, data-driven world, the personal touch is even more important. Consumers want to connect with a real person when dealing with your company. According to a recent study, 83 percent of consumers prefer interacting with a real person over other digital methods when it comes to solving customer service issues.
Does that mean we toss out everything digital and install a landline for all communications? Of course not. But it does mean that we learn to leverage new communication tools wisely. Just because new communication tools use technology doesn't mean we cannot make personal connections.
In fact, technology can allow us to communicate with both customers and employees better than ever before. Let's take a look at some of the different communication tools that are available. Every industry and business has different operational needs and challenges. But, these are the top tools that businesses currently use to increase their internal and external communication efficiency.
Internal Communication Tools
With new internal communication tools, it is easier than ever for every department or employee to be on the same page. Conversations or meetings about current projects, documents, contracts, and more can all be shared, viewed, edited, and stored for easy access.
Social Intranet Software
Slack is one of the most popular multipurpose communication tools for project management, instant messaging and video conferencing. Create several channels for different teams. Team members can instant message, share and store files with up to 20GB per member, and start video calls.
Communifire is a business intranet software solution that connects all your people, conversations, and documents in one central, instantly searchable hub. Share corporate information with everyone, while also providing channels for employees to communicate with the company and with one another to collaborate on any project.
Private, Social Messaging, and Chat
Basecamp is an easy-to-use messaging software that allows companies, teams, and employees to communicate and share documents. Connect your teams together for instant communication and project collaboration no matter where they are located. Basecamp also includes robust project management, planning, and collaboration options, and teams can communicate internally or with external clients as well.
LiveHelpNow offers several live chat solutions for small businesses. Choose and customize your own plan according to the type of service you want. The platform offers chat support, an email ticketing system, an FAQ builder, and call management capabilities.
Client Communication Tools
After clients are on-boarded with your company, you need a way to stay in constant communication with them, and allow them to communicate with your team. New communication tools now handle email communications, call and video conferencing, live chat with a team member, and more.
Cases, Issue Tracking, and Ticketing
Freshservice is an online service desk that combines a refreshing user experience with powerful ticketing and asset management capabilities. It features auto-discovery of new resources, powerful configuration management, and enhanced impact analysis.
Zendesk builds help desk software for better customer relationships. Improve communication and make sense of massive amounts of data. Above all, work together to help turn client interactions into lasting relationships.
Call and Video Conferencing
BlueJeans is a cloud-based video communications platform that gives attendees the flexibility of joining video conferences using a web browser, desktop app, or mobile phone. Make meetings more productive with a wide range of collaboration features that are available across platforms. These include the ability to host meetings in conference rooms and town halls, share screens, and record meetings.
Cisco's WebEx offers HD video conferences with collaboration and file-sharing capabilities for all types of meetings, including presentations, sales demos, online training sessions, web-based events, staff meetings and remote tech support. It's fully accessible on mobile devices using the WebEx mobile app for iPhone, iPad, Android, and BlackBerry.
GoToMeeting makes it easy to connect on any device for online meetings with end-to-end encryption, strong password protection, and top-rated reliability. Features unlimited meetings, HD video, clear audio, and your own personal company meeting room with a unique URL.
Live Chat
Intercom is an all-in-one tool for customer communication, offering messaging products, marketing, and customer service all in one platform. They're one of the only companies in the industry using machine learning and AI.
Drift is a conversational marketing chat platform. Use its "LeadBot" feature to qualify site visitors, which will then deliver only the most qualified potential customers and clients to your sales team. This lets you focus your customer service efforts on users who are likely to convert, making the entire process more productive and efficient.
Potential Client Communication Tools
These communication tools are how your business connects with the world at large, or more specifically, your target audience. Communicate your marketing messages to them in various forms.
Website CMS
WordPress is a website CMS (content management system) that allows you to control and manage content within your website quickly and easily. Many add-ons allow for using different features, even without any technical experience.
Ghost is a simpler alternative to WordPress if you just want to focus on your content structure and SEO. You won't really get the ability to add unique features to your website because Ghost is specifically tailored for publications/blogs.
Email Marketing
Constant Contact is an easy to use and beginner friendly email marketing service.
You can easily manage email lists, contacts, email templates, and more. Each account gives you access to easy tracking and reporting, built-in social media sharing tools, an image library and 1GB of storage for your own files.
ConvertKit is an email marketing platform for small businesses, bloggers, authors, and marketers. It is extremely easy to use and incredibly powerful. ConvertKit allows you to offer content upgrades and incentives with email signup forms. It also comes with easy to manage auto-responders allowing you to send drip emails.
CRM
Customer relationship management (CRM) software helps you manage leads and hand off the best contacts to your sales team. You can also track marketing and sales activity for your sales leads and provide your sales team with context to help them have warmer conversations that lead to higher close rates.
Salesforce is the leading CRM in the industry. Small businesses can use it out-of-the-box and see a reported 38 percent increase in productivity. Billed as a Customer Success Platform, Salesforce provides all the solutions necessary for companies to turn leads into customers.
HubSpot CRM is the premier CRM software to track customer communications, leads, contacts, and sales activity. Best of all, this robust service is free, although premium features come at a cost.
Zoho features a wide range of email marketing tools, gamification features, integration with Google G Suite and other Zoho products, comprehensive reporting, and workflow automation features. Free edition for up to 10 users available.
Each of these tools can improve your workflow and communications. But, how you use these communication tools to make and maintain personal connections is up to you. Just because communication is via digital means, doesn't mean it cannot be personal.
In order to run these programs seamlessly, it requires a reliable Internet connection. MHO business networking and Internet solutions are fast, reliable, and provide true business-grade connectivity with great bandwidth speeds. Why not connect with us today for all your network performance needs?