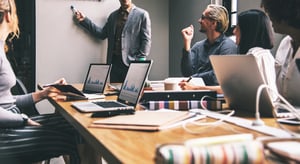 Just like protecting yourself in adverse weather is best accomplished by dressing in layers, the best cybersecurity is a layered defense. An essential layer is Network Access Control (NAC), which is taking actions to restrict access to your network by unauthorized users and devices. Access control is a basic line of defense that prevents network breaches and protects you against legal vulnerabilities.
How Does Network Access Control Work?
Network access control basically controls what users and devices are allowed to access your business computing and communications network. NAC operates by receiving requests to connect to the network and then granting or denying permission for access according to a predetermined set of parameters.
Your security policies or parameters are built into an identity and access management system that is a crucial part of your overall company network. Just how important is such a system? Network access control was the highest IT security spending priority in eSecurity Planet's 2019 State of IT Security survey. It is popular because it works.
Benefits of Network Access Control
A correctly implemented network access control system is obviously a great benefit to protect your sensitive information and operations. Here are some basic benefits.
Stronger Security – NAC has the ability to greatly improve your security, with various options for different levels of access and authentication.

Improved Visibility – A number of NAC solutions provide administrators with security troubleshooting data, like the IP address, operating system, and other identifier information of devices that try to access the network.

Dynamic Control – Your network access control can even be configured to allow users limited access according to their role in the company. Set these parameters once and eliminate the need to seek administrator permissions to get work completed.

Reduced Admin Overhead – Once your NAC solution is in place and working, network management tasks are substantially reduced, freeing IT personnel for other important tasks.

Customer Service – Provide free Wi-Fi access to customers at your place of business in a completely separate network without allowing access to your company network.
Basic Ways You Can Secure the Perimeter of Your Network
Network security is a constant concern. Every business should regularly review their network access control procedures with an eye on making improvements to security and usability. Here are some basics to consider.
Review your Email Gateway Security
An email gateway scans emails as they arrive at the "front door" of the company network before allowing them access and directing them to the intended user. Be sure your security settings place suspicious and malicious emails into quarantine or block the sender. Most breaches to network security arrive through email.
Consider SIEM - Security Information and Event Management
SIEM (pronounced "sim" with a silent "e") is a security system that constantly monitors hardware and software applications that operate within your network. Any unusual actions or deviations from accepted operation are logged, generate an alert, or even stop activity on the network until the problem is solved.
Consider MDM - Mobile Device Management User Awareness Training
AT&T's 2017 Cybersecurity Insights Report states that 51% of all company network breaches come through employee mobile devices. User awareness end-user training can teach employees how to use mobile devices safely on the company network. Businesses should also consider some form of mobile content management software as an added security layer.
Implement NAC 2FA - Two-Factor Authentication
Two-factor authentication (2FA) (or two-step verification) requires users to provide two different authentication factors to verify their identity. This is obviously a higher level of defense than single-factor authentication, which is typically some sort of password. 2FA combines a user's password or security token with another authentication factor, even biometrics like fingerprints or a retinal scan.
Ensure Your Firewall is Up-to Date
There are different levels of firewall security, and each business must decide which one is appropriate for its security needs. At any level, firewall components should be updated frequently with the latest security updates and upgrades. Review your firewall protections with an IT specialist to see what is needed.
MHO Provides Secure Networks
MHO offers secure network solutions for all manner and size of businesses and organizations. Are you ready for a professional network review or upgrade? Call or message us online to speak with one of our representatives about network security issues or improving your company network.