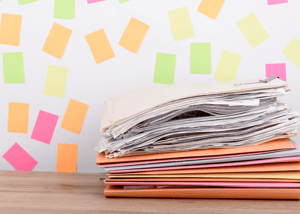 Businesses know the importance of keeping up with vital documents. In the current digital age, this is primarily handled by some form of document management solution. These include some way to input documents, collate them, tag them for easy referencing, store them, and retrieve them when necessary. The same basic system is needed for your company's network documentation management.
What is Network Documentation
Management?
Network documentation management maintains the records about your company's computer network. IT personnel or network administrators use this data to troubleshoot and repair network issues as they arise. A complete set of records allows IT professionals to quickly see how your network is built, and how it works, so timely repairs can be made.
This network documentation will also include notations of when and where upgrades, component replacements or additions, and repairs have been made. This information, properly dated and recorded, is vital to know when new issues or problems arise, or new IT personnel are tasked with oversight. A well-documented record of how everything in the network relates together is an essential tool for making timely repairs.
The goal of effective and accurate network documentation management is to keep your company network at peak operating efficiency with the least possible amount of downtime.
Why is Network Documentation Management Important?
The ability to lay hands quickly on a variety of network records is vital for a number of reasons. With network documentation management, your overall goals are to:
Make information readily available to resolve issues quickly. Every minute your network is down costs you in productivity and profit. The faster problems can be solved, the better.

Minimize user downtime. Network drawings can help facilitate communication. A well-drawn schematic to show your network layout can make the difference between a repair or upgrade that takes minutes, or hours trying to explore and understand written descriptions.

Understand the schematics of your company's network. Knowing the layout of your network and how each part relates to the others is important, especially when making repairs or adding new components.
What Should Your Network Documentation Management Include?
What is included in your company's network documentation depends largely on the size of your network. For example, a small network with one switch and a firewall with a single access point needs very little documentation, and perhaps only one diagram. But the larger your network becomes, communication between teams becomes key and documentation is required for ease of handover between employees, contractors or external parties.
Auvik, a company that provides document management solutions, suggests including the following information in your network documentation. The data is categorized as critical, useful, and nice to have, relating to an item's importance to your network documentation management.
| | | | |
| --- | --- | --- | --- |
| Importance | Document | Type | Notes |
| Critical | Layer 1 or Layer 1 / 2 | Diagram | Should show key infrastructure |
| Critical | Layer 3 | Diagram | Should show key infrastructure |
| Critical | Circuit numbers | Table | Sometimes this is done within a trouble ticketing system |
| Critical | IP Address allocation | Table | This could be a tool rather than a spreadsheet to allow easy sharing |
| Useful | Rack layout | Diagram | Particularly for data centre |
| Useful | WiFi layout | Diagram | Depending on how important the WiFi is |
| Useful | Cable plan | Diagram | Particularly useful if the drops are not numbered the same as the desk locations |
| Useful | Routing protocol | Diagram | Becomes critical if you run a routing protocol of any complexity |
| Useful | Security view | Diagram | This is more useful for explaining your security than for troubleshooting |
| Useful | Cloud services | Diagram | Becomes critical if you run a cloud of any complexity |
| Useful | Patching table | Table | Particularly useful during implementation |
| Useful | Asset tracking | Table | Particularly infrastructure assets and support contracts |
| Useful | Password vault | Table | Should be encrypted |
| Nice to have | Detailed design document | Document | Becomes critical in larger environments with lots of support staff |
| Nice to have | Support document | Document | Depends on support organization |
| Nice to have | Routing and spanning tree snapshots | Document | Useful for troubleshooting |
Maintaining your company's network at peak efficiency is vital to your success and profitability. Is it time to review your network's capabilities with an eye on making improvements? MHO can provide effective solutions for all sizes of business networks. Give us a call today or drop a message through our website to ask about our networking services for businesses.