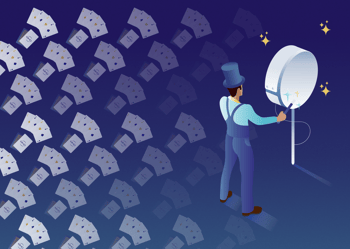 There are many factors and costs involved in a network installation: from fees, permitting, and supplies that can cause delays to equipment rentals, monthly recurring fees, and the cost of long lead times leading to installation. Many companies are struggling to find a company that can delight and amaze them with a robust network.
Prior to the pandemic, fiber installations already experienced unexpected delays and long lead times. This has been exacerbated by the pandemic and fiber supply chain shortages. Some installers are waiting up to 71 weeks for supply deliveries. If you need internet connectivity within a short time period, we are here to help! With the wave of our wand we can set up a connection in as few at 10 business days!.
It could also be that you may want to experience redundant and diverse connections. It is likely that a dedicated wireless network option will be much quicker to install, allowing for businesses to have the fantastic connection they need, whether it is the long-term primary or secondary connection.
How Do We Amaze Customers? With Short Timelines!
Abracadabra! MHO is known for making magic happen, and with the ability to complete dedicated wireless Internet option installations within 10 business days of signing a contract, who can argue that? Sadly, this is not the case with many other ISPs. Although there should be a better process by now, many companies share horror stories of backlogs, permitting nightmares, interminable delays with infrastructure installations, and even more equipment failures.
Why do clients demand reasonable service times from other professionals, and yet seem to accept as normal a months-long wait for Internet installations? Would you hire a plumber who quoted a four-month time frame for unclogging your sink drain?
Businesses are successful when they are provided a fast and reliable internet and networking options. MHO's dedicated fixed wireless Internet offers that, along with many other magical perks such as full-duplex synchronous upload and download speeds, adaptive modulation, no data caps and more.
Superior De

dicated Fixed Wireless Internet Installation
From the moment you inquire about MHO's services, you can say open sesame to an exceptional, high-quality, service-oriented experience! What can you expect from a dedicated point-to-point fixed wireless Internet installation from MHO?
Professional Guidance &

Compl

ete

Transparency
You can expect a courteous and knowledgeable MHO representative to walk you through each step of the process, including explaining necessary paperwork like our service contract, credit application, and obtaining roof rights to your building or buildings.
Timely Site Survey
An MHO representative will complete a site survey at your premises, including precise GPS coordinates for each location, necessary equipment for each location, and any work that must be completed to facilitate the installation, such as roof penetrations for cabling.
Exclusive FCC Licensing
Your Internet connectivity depends on secure radio waves that follow a precise pathway. This connection path is submitted to the FCC to obtain specific licensing that provides the most reliable and trouble-free connection possible.
Fast, Efficient Installation
MHO engineers expertly install and calibrate the necessary towers, antennae, and equipment at your location or locations, and those necessary between your buildings and the closest MHO node. This typically takes about two days depending on the needs of the site.
Advanced System Testing
To ensure a quality installation and connection, MHO engineers perform advanced system testing on every aspect of your network installation and connection to the Internet. We do not hand over your network for use until we are fully satisfied that you have a fully functional network in place.
Network Hand-Off
You will receive an email to inform you that your fixed wireless network is live and ready for use. This email will contain important contact and account information, technical information, billing information, and service contact information.
All guaranteed within 10 business days of MHO obtaining a complete order from the client. Is this a magic trick? No, this is MHO's promise to their clients, offering a reliable, fast, scalable, and secure Internet option that also guarantees a fast installation!
Contact MHO today to ask about partnering with us to provide your clients with quick Internet installations and superior service. Because MHO makes magic happen!