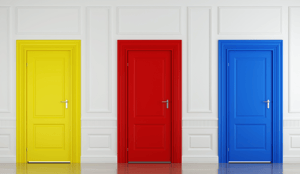 Far too many businesses confuse Internet redundancy with Internet diversity. Both are concerned with providing alternate Internet connection and communication services in the event of an outage; yet, both solve these problems in different ways. Make sure you do not use the terms interchangeably or confuse one with the other. Let's take a look at both and help you decide which is best for your business.
What is Internet Redundancy?
Internet Redundancy is basically having a backup plan and backup Internet service provider. You have two completely different means of connecting to the Internet — such as fiber and dedicated wireless. One is used as the primary connection and the other is the secondary connection.
When the primary connection suffers an outage, the secondary connection automatically takes over to maintain your vital business Internet communications. One Internet connection is all that is required. The second, or backup connection, is redundant — extra, only used when the primary connection becomes inoperable.
Some principles of diversity are also often included in a redundant connection, such as using different ISPs, different means of connection (fiber cable and fixed wireless radio), different building access points, and different network hardware. However, this is not always the case.
Many confuse redundancy and diversity and mistakenly obtain dual Internet connections for redundancy, but allow them to come from the same provider or use the same local network connection. This eliminates the value of having a redundant system.
What is Internet Diversity?
Internet Diversity involves separating all the factors of how your dual (redundant) Internet connections provide connectivity to your business. Primarily, it involves three main components:
Carrier Diversity - this is when you choose two entirely different ISPs to provide Internet and networking connectivity.

Access Diversity - this is when your ISPs utilize different local hubs, maintain your connection through two different routes, and use different entrance methods to your building.

Transport Diversity - this is when your ISPs provide alternative transmission paths in the network core or cross-market section of the connection.
The goal of all three diversity segments is to ensure your business enjoys two independent Internet connections that share no common points of contact to prevent one event from causing a breakdown in both connections.
Which Option is Best for My Business?
Most businesses will find a quality, well-designed redundancy plan is sufficient for their needs. What is necessary to guarantee your business the maximum uptime will depend on your view of the inherent risks and the strategy you adopt to counter them. If your company sees absolute three-tier diversity as a priority, you should consult with local ISPs to explore what options are available.
It is important to realize that using different services, ISPs, and even infrastructure does not guarantee complete diversity. Some research will reveal that the overwhelming majority of ISPs are, in fact, utilizing the same primary carrier for last mile and other connections. Many also share entrance points into buildings with other providers.
Fixed Wireless Internet from MHO utilizes a completely independent local network of radio towers to maintain your Internet connection between your provider and other branches of your company. Radio waves are transmitted between locations and enter your building in a dedicated, secure network infrastructure.
In many cases, businesses are choosing fixed wireless as their primary connection with fiber as a backup. Both enter the building in different ways, using different means, and come from different ISPs, providing the best local redundancy and diversity options. Call MHO at 877-WANT MHO for more information about fast, secure, and reliable Internet connections and networking options in your area.