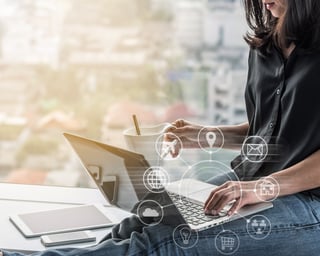 While IT departments must work to provide wide-area network (WAN) operations to solve today's needs, the most astute are considering tomorrow's needs as well. That's got more than a few thinking about how to address those future needs, and what the WAN of tomorrow will look like.
What Problems Does Today's WAN Face?
WAN architectures, overall, haven't exactly changed much in the last few years. However, as technology evolves, there's a clear call for change.
Increasing abstraction. Enterprise WAN operations are increasingly complex. Traffic must be prioritized to let users get the best experience. That traffic is itself split between on-network and off-network options. WANs have to step up and address this highly complex demand.
Greater demand for cloud systems. Cloud-based systems are increasingly part of the picture for businesses, and require connections that can handle the outbound material too.
Growing security concerns. All these systems and all this traffic mean a lot of data going through the system. That in turn requires greater security to protect these systems from leaking proprietary data like a sieve.
How Will Tomorrow's WAN Address These Problems?
With these threats and others in mind, WAN creators work to make the next generation of WANs that can address and defeat these challenges.
Software definition. Software-defined wide-area networking (SD-WAN) means that the current WAN can be improved to yield better results. Tracking those various functions and adjusting the network accordingly can be a major challenge. The software can step in to administrate those functions and provide better operation.
Converged network solutions. While multi protocol label switching (MPLS) formed the basis of WAN operations for years, MPLS is showing its age. With new tools like converged network solutions, the modern WAN can supply the reliability and performance that MPLS built a name on, while also accommodating the changing demands.
Proactive monitoring systems. Rather than waiting for problems to arise, proactive monitoring is allowing network operators to spot problems in the making. This allows the problem to be addressed in its simplest stages before it grows large enough to even be noticed, let alone shut down systems.
New architecture. Addressing issues of abstraction is requiring changes, including architecture that allows services to actually be managed like policies. That means smoother, more effective management of services, including web filtering and WAN optimization.
How Do I Start Getting Ready for Tomorrow's WAN?
To get ready for the WAN of the future, start by talking to MHO Networks. We offer dedicated internet and metro Ethernet options for improved connectivity. So whether you need to be ready for today's needs, or want to get yourself ready for tomorrow's, we're ready to help you set up your WAN accordingly.