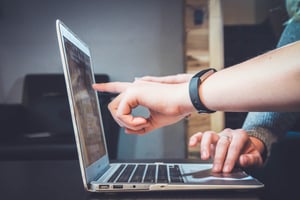 The speed of digital transformation among businesses demands that WAN architectures change to meet growing challenges. Needs like increasing cloud usage and growing bandwidth requirements mean that your company is likely seeking ways to simplify your WAN to meet these increasing demands.
A wide area network (WAN) is, "a geographically distributed private telecommunications network that interconnects multiple local area networks (LANs)." In larger businesses, a WAN may include the company base location or headquarters, and branch offices, cloud services, or other related facilities. All these locations are directly connected to the headquarters.
Such an arrangement allows company users at different locations to share access to services and applications. This eliminates the need for every location to install their own system of resources. Your WAN connects all the various sites of your company to your data center. To simplify your WAN, you need to start with your Internet service provider, because that is who controls it.
How Can an ISP Simplify Your WAN?
Because your enterprise WAN is controlled by your ISP, you must coordinate with them to simplify your WAN. There are a few ways this can be accomplished. We briefly explore them below.
Use a Hub-and-Spoke WAN Design
Large businesses that have multiple locations spread across different geographical regions can benefit from a Hub-and-Spoke WAN design. Often called a Hub-and-spoke Site-to-Site Wide Area Network (WAN) topology, one physical location, usually the main office, acts as the primary hub. Other branch locations are as spokes.
Spoke locations are connected to each other through the hub site, just like the spokes of a wheel. Everything in the WAN, including communication between two spokes, always travels through the hub. This is a traditional, proven, and widely used WAN structure to direct data flow and utilize resources.
Fast Turn Up Timeframe to Delivery
If your company is already working with an ISP that has built your WAN solution, each new site is easier to bring online because it takes less physical equipment at your new facility to turn up the site. No server is required, and no cabinet. So, in terms of IT, it is much more efficient.
Test and turn up (TTU) is the last stage in a network and/or WAN deployment. This is when equipment is installed, connected, and then tested. An effective turn up process ensures that equipment performs according to specifications, and is completely integrated into your network. Testing and turn up typically includes:
Bringing new technology online
Testing connectivity
Verification of the programs and applications using the network
Troubleshooting
Faster turn out means a faster roll-out of your new site, less downtime, and optimal performance. For large deployments, it generally requires a site visit by ISP personnel to adjust capacity.
Avoid Last Mile Integrations with Other Carriers
If at all possible, avoid complicated last mile integrations with other carriers. Although this is a common practice, the carriers that manage your last-mile are often limited in their capabilities. Typically, this means a standard Layer 3 appliance using (ICMP) request/response protocols. They do not detect problems and lack visibility from the ISP's upstream connectivity.
If you're working with an ISP that controls their entire network, this means lower latency and ease of integration for a new site and wiring network node. Their entire network will likely be upgraded to handle smooth handoffs from the Internet to your WAN without switching protocols.
Troubleshooting
Your WAN ISP should provide excellent and fast troubleshooting when you experience speed and performance issues with your WAN. There can be many causes, but thoroughly knowing the network architecture and basic trouble spots can speed up troubleshooting and lead to fast, effective repair solutions.
Simplify Your WAN with MHO
MHO's Dedicated Internet combined with Metro Ethernet Service provides you with the fastest route to the Internet, and that includes WAN service that can handle multiple system operations all connecting back to a data center. Take a look at this case study that demonstrates MHO's superior quality and overall viability for enterprise WAN service.
MHO's connectivity services run on our own fully-meshed Multi-protocol Label Switching (MPLS) core network with multiple Internet gateways and peering agreements. Our carrier-class, point-to-point microwave radio technology extends the last mile to your physical locations for reduced equipment costs and better service.
MHO understands that reliable Internet and WAN connectivity is what helps businesses succeed. Simplify your WAN with MHO connectivity solutions. Connect with us today to see which solution is best for your company or organization.