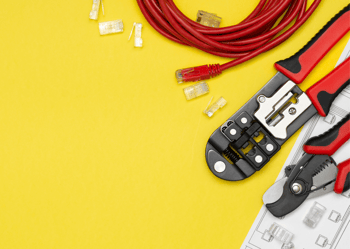 The days of disconnected and remote construction sites are over. Modern construction site requirements have reached the pinnacle of technology. Efficiency and productivity, safety, operations, and so much more rely on information and instant communications. Construction Internet that guarantees reliable connectivity for numerous devices has quickly become necessary for every construction site.
Sensors installed on materials and equipment can now track how everything moves across the entire construction site.

AI is used to record data sets from how workers move about and interact with the site.

Digitized safety mechanisms allow companies to collect data on work processes, collaboration, and decision-making.

Apps help site managers track every member of the construction team in real-time, managing traffic, material deliveries, and more.

Mobile applications improve measurements, precision placement of objects with GPS, real-time inspections, and more.

Automated drones and ground-based site rovers are equipped with high-definition cameras and LiDAR to scan and make an accurate photographic record of the construction site each day.

Drones are programmed to inspect and count material inventories each day to keep up with existing inventory and inform managers when supplies are needed.
But how can you guarantee the type of reliable, high-speed Internet connectivity needed on today's construction site when a fiber buildout typically takes months to complete?
The Problems with Fiber and Construction Internet
Most of the time, construction sites don't have access to fiber Internet. Fiber can take months to install and as a result, it is not a viable option for the high-speed data needed to effectively run a construction site. Your construction Internet connection and network must be fully dedicated to provide security, speed, and guaranteed uptime.
A new fiber Internet buildout to access your construction site depends on too many variables that are beyond your control. And each variable or obstacle drives up the cost. Consider these factors:
The farther away you are from the closest fiber matrix, the more cost involved to bring a dedicated fiber connection to your construction site.

A fiber buildout requires digging a suitable channel, laying conduit, running the fiber optic cable, covering the ditch, and connecting and testing the circuits, all before you can access it.

Plus, before any of the buildout process can begin, the route must be mapped, and the appropriate permits must be obtained.

Don't forget that any obstacles between your construction site and the closest fiber matrix will add more time and cost to the buildout (water obstacles, rocks, mountains, highways, historic sites, etc.).

And, before any of this can begin, you must negotiate with local ISPs and/or major fiber carriers to see if such a major service request can be fulfilled.
You are forced to initiate and wait for another major construction project before you can focus on your own primary project. Who has time for that?
A dedicated, high-speed wireless Internet connection and network can provide all the bandwidth, security, and reliability required for effective construction Internet applications, plus the installation is fast and simple.
Solutions for Redundancy and Diversity
What if a fiber installation is already available or easily connected to an existing nearby matrix? Should you still install a dedicated wireless network? Of course — this is the perfect solution for redundancy and diversity to keep your construction site fully operational while avoiding outages.
Fiber and fixed wireless can enter your site at different points, from different sources, and become your primary and secondary networking solutions. Modern construction depends on reliable Internet and networking connectivity, which means having redundancy and diversity solutions in place.
Contact MHO today to inquire about fixed wireless Internet and networking solutions for your construction site.