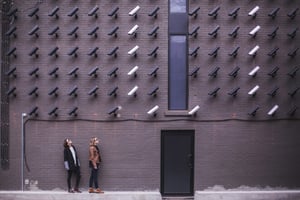 5G will be amazing they said. It will usher in a whole new realm of life and business they said. Unfortunately, 5G security concerns are mounting, even as big mobile wireless companies raise the hype by advertising misleading claims of their "nationwide" coverage.
By this time, most people have a general understanding of 5G. To recap for those that might not, 5G is the next generation (5th generation = 5G) of mobile wireless connectivity. It is set to replace the previous (4G LTE) generation connections. 5G boasts three new aspects for communication:
Bigger channels that enable exponentially faster downloads and uploads

Virtually no latency to make devices more responsive

Increased capacity for simultaneously connecting more devices
It is this kind of hyper connectivity that promises to usher in self-driving vehicles and other futuristic inventions.
What is 5G, Really?
There is still confusion about what 5G will actually be, because what defines it can be blurred. Initial 5G will lean on 4G to work properly. So, is this really 5G?
The new 5G system is technically known as 5G-NR, and due to the time it takes for a full 5G rollout nationwide, all 5G devices require 4G for connectivity. Eventually, somewhere in the distant future, 5G will actually attain something close to nationwide coverage, and will be a standalone network. In the meantime, 4G will continue to improve, and currently supports speeds of up to 2 Gbps.
In fact, beware of companies boasting "nationwide" coverage of 5G or other 5G network innovations. For example, one popular carrier boasts a 5G network that is nothing more than a high-quality 4G network.
What are the Main 5G Security Concerns, and Why are They Concerns?
The main 5G security concerns stem from the primary benefits that make 5G such a benefit. First, 5G networks are designed to support an incredible number of connected devices. IoT devices are one of the most-attacked types of hardware, making up over 78% of malware detection events in communication service provider networks in 2018 alone.
According to Wipro's 2019 State of Cybersecurity Report, publicly-recorded breaches increased by 25% in 2019, and the rate of breaches is "exponentially increasing." Basically, the more IoT connectivity we see through the advent of smart homes, healthcare connectivity, and autonomous vehicles, for example, the more opportunities there will be for unauthorized access and security breaches through the network.
An article in Forbes cited research from Purdue University and the University of Iowa that demonstrated a number of security concerns that were prevalent with 3G that are still vulnerabilities with 5G. They include:
Use of "stingrays" (fake cell towers) to spy on users

Accessing network identifiers to track phone locations

Ability to access and control paging channels
A European telecom investigative commission evaluating 5G security concerns released a report highlighting even more possible risks. According to their findings, 5G's increased dependence on software and greater number of base station architecture make it easier for malicious actors to find entry points into the network.
Some fears actually pinpointed the companies producing the necessary software and other network components as possible risks, citing the ability of rogue employees creating back doors and other malicious entry points into the system. Chinese manufacturer Huawei is only one possible threat, with non-EU and other state-backed companies rated as unreliable.
What Direction Should I Go as a Business?
Regardless of the advertising hype, 5G technology will not adequately meet the Internet needs of businesses. Considering the issues with coverage, security, and dependability, replacing broadband or fixed wireless with 5G will be virtually impossible.
Coverage Issues - 5G requires an innumerable amount of small DAS cells, which will depend on fiber or fixed wireless connections to transmit large volumes of data.
Security Issues - Important security issues that must be addressed are being downplayed as big telecom rushes to the the first with "nationwide" 5G coverage.
Dependability Issues - Mobile wi-fi at its best is flexible and service is variable, especially with numerous devices demanding more data.
In spite of all the 5G hoopla, the need for a better Internet connection isn't going anywhere. The fastest, most secure, and most scalable Internet solution is fixed-wireless internet. With MHO as your service provider, your business gains the following to guarantee your uninterrupted, secure, and cost-effective Internet connectivity.
Fast Installation - MHO's installation team will have your services in operation within 10 business days after roof rights are secured.
Low Latency - Your VoIP (either SIP or Hosted PBX) and other latency-sensitive applications will run successfully.
Scalable Bandwidth - Scalable bandwidth from 10Mbps up to 4Gbps. Most requests are handled the same day, usually within minutes.
Unparalleled Customer Service - If you experience service issues, MHO will have your network back up-and-running within two hours.
Guaranteed Reliability - MHO's carrier-class, point-to-point microwave technology extends the last mile to your location with a business-class SLA.
Give MHO a call or connect with us online and let us help you get started with a powerful new option in Internet access.