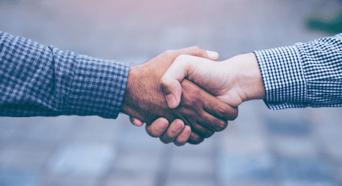 MHO works with clients directly but we also collaborate with channel partners that have their own clients. In many cases, these channel partners are able to offer a fully packaged solution that can be the best option for some businesses.
There are many reasons that companies choose one service provider and networking solution over another. Moreover, there are numerous companies providing services, each offering many options, making it a difficult proposition to settle on a successful solution. Channel partners often help with this decision.
When working with a company, many great objections and questions can arise. MHO has created this blog to discuss the ways our channel partners can offer the facts to overcome the most common objections to fixed wireless solutions.
Common Fixed Wireless Questions Answered
Below are five of the most frequent objections we hear to fixed wireless for business. While they represent legitimate concerns, the basis for these doubts or fears stem from misunderstandings and abject falsehoods. MHO prefers to meet these concerns with the facts.
I need a fast installation. Won't putting up a tower take longer and be more complicated than using fiber?
MHO knows your business can't afford to wait several weeks or months for connectivity, and it isn't necessary. The fact is, MHO can install the Dedicated Internet or Metro Ethernet data solution (or both) that is right for you, including erecting the necessary towers, in a matter of days. We guarantee that within 10 business days after securing roof rights, your service will be up and running.
Don't just believe us — take a look at the proof. When Incipio made a deal with a common area fiber service provider, they were informed they had to wait 60 days for installation. And it still didn't happen! They turned to MHO for help, and we had them completely activated and operational in only nine days.
Will fixed wireless be fast enough? I've been told fiber has a higher speed. Is this true?
No, this is not true. With high download speeds and low latency, FCC-licensed, point-to-point fixed wireless offers the same speed and quality as a fiber connection. Moreover, fixed wireless utilizes Multi-protocol label switching (MPLS) technology, which creates a private pipeline for your traffic, making it more secure from cyberattacks.
And, fixed wireless can often reach areas that are too expensive or difficult for fiber. Compared to a fiber connection, fixed wireless emerges as the solution with more benefits, including high speed connections.
How dependable is fixed wireless in comparison to fiber providers?
For business Internet, dependability relies a great deal on redundancy. Having a secondary connection that is completely separate in all respects from your primary connection is vital for when, not if, the primary experiences an interruption. Many businesses turn to MHO for a fixed wireless connection as their backup.
In fact, more and more, the reverse is true. We see many companies choose to use fixed wireless as a primary means to access the Internet with a fiber or cable backup. Fixed wireless is not affected by weather conditions and does not risk damage from utility repairs or other subsurface operations.
Why should I get fixed wireless when 5G is coming?
Yes, 5G is coming, one way or another and sometime in the future. When will it be available where you do business? Who knows? And will your business operate with 5G? Is that even feasible? How long are you willing to wait and do without the fast, reliable connection you need right now?
There are numerous unknowns surrounding 5G and how it will affect business Internet connectivity. One thing is known: in outlying areas, and even smaller cities, the 5G buildout will take forever or will simply not happen, and fixed wireless connections will still be around to provide the needed services.
Is fixed wireless more expensive? True costs are hard to determine…
Cost is absolutely an important factor for businesses when determining their best Internet solution. Not just cost, but costs (plural) that include factors like:
Equipment Installation: How much is required and how long will it take?
Installation Scheduling: How busy is your chosen provider with installations?
Speed, Latency, and Scalability: Are you really just getting a "best effort" service with no guarantees on upload/download speeds, low latency, or the ability to scale quickly?
Timing: What will it cost if your provider can't have your system operational when you are?
MHO offers guaranteed reliability, low latency, fast installation, an MPLS core network, scalable bandwidth, and unparalleled customer service. MHO also tailors each network to the client's unique needs. To state an old cliche that holds true with MHO and fixed wireless: "you get what you pay for." Bad grammar, but good advice.
MHO - Your Solution for Fast, Reliable Business Internet & Networking
Do you have other questions related to fixed wireless? Give us a call at (877) WANT-MHO to check for availability in your area and to learn more about our state-of-the-art technology and competitive pricing.