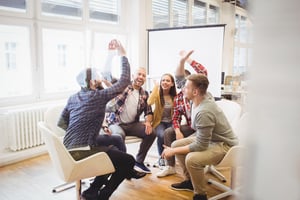 Keeping up with all the new methods of connecting to the Internet these days can be more of a challenge than keeping up with the Kardashians. As the Internet evolves, so do the networks that deliver it to your business or organization. One of the most effective business Internet solutions is fixed wireless.
A fixed wireless connection delivers broadband from the backbone of the Internet by using base stations to transfer a radio frequency from site to site. These dedicated wireless connections are designed for enterprise business in addition to acquiring dedicated FCC licenses that each business solely owns and operates.
If you're wondering if a better network setup is available for your business or organization, take a look at the major benefits of fixed wireless. It may just be the network solution for which you've been searching.
Fast Install
MHO can install your fixed wireless network far faster than fiber or cable or cable connections can be constructed. We guarantee that within 10 business days after securing roof rights, your service will be up and running.
The necessary radio equipment is placed on your roof and then accurately pointed towards MHO's own tower site. Then, the cable is pulled into your building to an indoor unit (IDU), which is then connected to your switch/router. After testing the system, your network is active and ready for use.
High Download Speeds
MHO fixed wireless provides scalable bandwidth from 20 Mbps up to 1 Gbps. Most requests for bandwidth changes are handled the same day, generally within minutes. No more waiting for weeks for a bandwidth upgrade.
MHO also provides VLAN freedom. You can choose almost any VLAN to connect your remote sites, without having to call us to make a change. MHO uses carrier-class, full duplex radios with the latest in point-to-point microwave technology. All designed to keep your company up to speed.
Low Latency
Latency, or lag time, is how long it takes information to be sent or received over your Internet connection. Lower latency is always better. Latency can never be completely removed from a network.
But with an MHO fixed wireless connection, the signal only travels from your site antenna to the nearest tower, which is usually within about 10 miles or less. While not having to traverse through the ground, the "straighter path" means that fixed wireless has about the same latency as a fiber connection, and often less.
Better Security
MHO fixed wireless utilizes Multi-protocol label switching (MPLS) technology, which creates a private pipeline for your traffic. Although it does not provide encryption, MPLS is considered a secure transport mode that can avoid cyber attacks.
MHO's secure, private network uses state-of-the-art, point-to-point microwave technology, and our network is strategically positioned to enable all your business needs and optimize your secure networked communications.
Fixed Wireless Internet Solutions
MHO understands that a great Internet connection is what helps businesses succeed. So why shouldn't every business have great Internet? We are here to help your business thrive because we care. Connect with us today to see which solution is best for your company or organization.