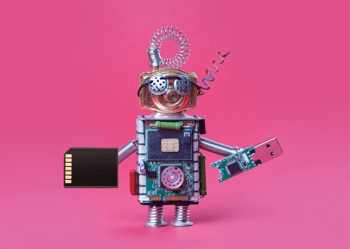 The savvy business owner knows that any sort of business ebbs and flows, experiencing fluctuations that are triggered by numerous factors. You plan for up times and down times as a way to protect your business. But how do you manage business data usage and handle extremely busy times? And what happens when your Internet and networking solution cannot handle the load?
If your company experiences a sudden jump in Internet traffic, and your system can't handle the load, what happens? Slower data transmission speeds, bottlenecks, productivity slumps, and even a complete outage. This leads to lost revenue, bad customer experiences, and a hit to your overall reputation.
Finding ways to manage business data usage across the board can help you be prepared for those sudden "feast" times when you need to be on your game to handle the great influx. Here are some tips to help manage business data usage.
What Can Raise Your Business Data Usage?
More than ever, companies of all sizes and in every industry are using more data transferred over the Internet. While these innovations are intended to speed up and improve how we do business, we can often forget that they must run on a limited network. As vast as the Internet and local networks can be, they can still be overloaded.
The advent of cloud computing has many industries shedding their huge on-site infrastructure to adopt cloud-based solutions for software, computing, and storage. But all that data has to be channeled through your network to get to the cloud, which is really just an off-site facility. Many cloud-based operations require constant uploads and downloads, which means your network can become overloaded.
The introduction of the Internet of Things (IoT) means that more devices are harvesting and sending data than ever before. This can place a significant strain on your Internet and networking infrastructure. Add to this all your employees using personal devices, and the recipe is there for huge problems.
Tips to Manage Your Business Data Usage
The key to preparing for sudden jumps in traffic is to manage your existing business data usage. Taking these steps will help you prepare for any sudden increases in demand.
1. Use Separate Networks
If your company enjoys plenty of client foot traffic on site, and if they hang around for a while (think banks, auto dealerships, healthcare, etc.), setting up a separate guest Wi-Fi network can keep extraneous usage from interfering with your vital business data transfers. Plus, you can set a bandwidth limit for the guest network to preserve more for your business use. Keep a separate, secure network with higher bandwidth for employees and work needs, so your operations enjoy better network capacity and speeds.
2. Monitor Your Data Usage
Use monitoring software to determine where and when your peak usage times occur and from what outlets. Implementing an employee network usage policy and restricting company devices for only business uses can help to stem the tide of extraneous use. Also, you can pinpoint any applications that use huge amounts of data and plan for their use during typically lower data use times.
3. Evaluate Your Current Provider's SLA
Is your current Internet and networking solution providing a package that is adequate for the demands of your business? Can you increase upload and download speeds simply and quickly?
What if your sustained needs surpass what they can provide? Are there data caps? Do you have the customer support necessary when problems occur?
Manage Business Data Usage with Solutions from MHO
Business Internet and networking solutions from MHO offer the best in fixed-wireless radio connections that can handle your greatest needs:
Guaranteed fast installations within 10 business days
Standard Service Level Agreement (SLA) of Business-Class reliability
Scalable bandwidth with most requests handled within minutes
Multiple Internet gateways and peering agreements
Multi-protocol Label Switching (MPLS) core network designed for fast reroute and core redundancy
If you experience service issues, we'll have your network back up-and-running within two hours
Protect your business from unexpected jumps in data traffic with Internet and networking solutions from MHO that are tailored to meet your needs. Contact us today for a consultation or check to see if we can deliver service your location.