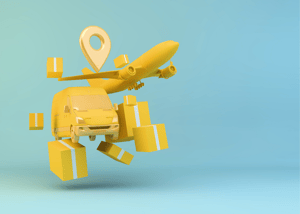 Warehousing and logistics are among the first industries to fully embrace the digital transformation. Digital tracking and inventory management is a key component of the modern transfer of goods between countries and clients. This is fortunate, in that the logistics and warehousing industry is fully positioned to leverage technology and the Internet to overcome significant problems caused by the COVID-19 pandemic.
The production of goods, warehousing, and shipping have all seen volume and demand fluctuations that have greatly upset the typical smooth flow. Mandated government shutdowns and subsequent new demands for reopening, such as new hygiene and protocol measures warehouses to increase employee safety, have only served to place additional strain on these vital supply systems.
New systems and protocols that slow down procedures added to the already burgeoning system, make this a critical time for warehousing and logistics companies to fully optimize operations using data and technology. Fast and reliable Internet connectivity and networking is key to making all of this work.
How Has the Global Supply Chain Been Stretched?
Very often, the average consumer has no idea how finely balanced the global supply chain is, and how the slightest hiccup can cause major disruptions. Perhaps this was brought home recently when the giant container ship Ever Given became stuck in the Suez Canal, blocking shipping traffic for six days until a massive cooperative effort freed the vessel to allow movement through the canal.
Best estimates say that six-day hiatus in shipping cost just over $9 billion each day. That includes the more than 300 vessels at both ends of the canal that were blocked from passage and swinging at anchor. These all contained valuable goods, as they included at least five other similarly huge container ships, 41 bulk carriers, and 24 crude oil tankers.
But even before that, the global pandemic causes catastrophic upheavals in the global supply chain, impacting every single country in the world. The following basic timeline from HDI Global illustrates the impact and its problems.
Worldwide production shutdowns in the first quarter of 2020 resulted in an overall reduction in active transport capacities.

In the second and third quarters, East Asian states bounced back from the crisis more quickly and were able to ramp up their economies once again, resulting in growing imbalances in the worldwide flow of goods.

As a result, empty containers piled up in European and American terminals, while Asian exporters have not had enough empty containers available for their shipments.

Industrial companies around the world have sought to replenish their stocks, which were depleted during the first phase of the pandemic, further accentuating disparities in demand and supply of transport capacities.

A general rise in e-commerce demand stemming from the pandemic coupled with seasonal effects has increased global shipment needs even more.
"I've never seen anything like this," said Lars Mikael Jensen, head of Global Ocean Network at A.P. Moller-Maersk, the world's largest shipping company. "All the links in the supply chain are stretched. The ships, the trucks, the warehouses."
How Does Internet Connectivity and Networking Play a Role in Repairing This Problem?
As previously mentioned, the warehousing and logistics industry was among the first to embrace a digital transformation to meet its needs. But this only further emphasizes their dependence on a reliable dedicated Internet connection and redundant network considerations. This dependence on Internet connectivity is not only vital to maintaining operations, it can be the key to solving many of the current challenges.
For example, one solution from shipping authority HDI Global includes the use of "track & trace functionality." This completely digital solution "...will be increasingly important to avoid unpleasant surprises and to take quick corrective action when necessary." This only makes reliable Internet connectivity and networking that much more vital.
IoT and the Internet in Logistics
Digital solutions in the logistics industry feature handheld scanners for inventory and sensors that track delivery truck performance. Many of the larger companies have completely automated certain processes to improve the quality and timing of production and shipping, and to lower overall costs. A further effort to improve and enhance connectivity between all components of the global supply chain can help to streamline trade and commerce.
Iot and the Internet in Warehousing
Warehousing is no longer about simply storing goods until needed. By fully embracing digital technology, warehouses now ensure that inventory and quality control measures are carried out while goods are awaiting shipment, speeding up these processes. Smart-inventory management and damage detection allows for goods and containers to be repaired or replaced and now disrupt orders and logistics scheduling.
More than ever before, warehousing and logistics operations depend on fast and reliable Internet connections and networking solutions. MHO provides fixed wireless Internet and networking solutions for business that feature carrier-class, full duplex radios with the latest in point-to-point microwave technology. All designed to keep your company up to speed.
Contact us at 877-WANT-MHO or check for availability in your area here. Fast, secure, and reliable fixed wireless Internet can be the key to keeping your warehousing or logistics operations running smoothly.