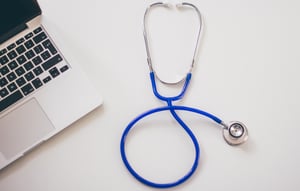 As Americans watch the COVID-19 pandemic ramp up from behind the closed doors of homes and businesses, the healthcare industry and local hospitals are gearing up for a massive response. The challenge is unprecedented, and so are the various needs that accompany it.
New measures are being implemented to speed testing for COVID-19 and the triage process for patients. With an expected rise in those needing testing and treatment, even with stringent containment measures in place, will place greater demands on IT departments for hospitals, physician offices, and other remote locations.
Healthcare-Specific IT Needs
The burgeoning IT needs checklist for healthcare and hospital responses to the current pandemic include a few common items, and some new challenges.
Bandwidth Scalability
Hospitals and healthcare companies will definitely need more bandwidth as hospital and patient load go up. Especially with plans for remote testing locations and alternative treatment locations to handle anticipated overloads. The capacity to efficiently handle vastly increased data transferal demands will be crucial.
Multi-location Dedicated Networks
Early on, the President announced a government-corporate partnership that would allow remote testing centers to be set up at Wal-Marts, Target Stores, Walgreens, and CVS stores. These testing/triage areas are now ready to be set up, and they will need quick access to the local healthcare network. New infrastructure will be needed in each location to access crucial patient information, and to enable rapid, secure communications with other healthcare centers.
Confidentiality Solutions
As many regulations are being relaxed to speed the nation's response, some will undoubtedly have to remain to protect patient privacy. New remote testing and treatment centers will still need protocols and network security in place to guarantee the security of patient information. The sheer volume of data will present a problem, as well as measures to guarantee patient privacy and data security.
Work-from-Home Access to Hospital Network
New efforts to reduce the impact of the virus on hospital personnel is seeing medical facilities sending non-essential, hands-on personnel to work from home. Records, insurance, and case management specialists are some of the workers being sent home to work in quarantine.
However, in order to work from home, these employees need secure access to internal network resources. Many handle sensitive HIPPA-related information that must be protected from unauthorized access or risk of penetration. This service utilizes your current internet services while allowing you to easily access the secure network infrastructure of the hospital or clinic. It is important to understand that access to an internal network is not a different internet. It is access to the infrastructure put in place to meet regulations and standards.
Healthcare IT Solutions During a Health Crisis
Technology exists to meet these challenges in the form of Fixed Wireless Internet and Networking. MHO has the capability to provide the vital IT infrastructure that will need rapid installation and implementation.
Rapid Bandwidth and Secure Scalability
As hospital and patient load go up, so will a need for increased bandwidth. MHO Fixed Wireless networking allows speeds from 10 Mbps to 10 Gbps. Requests for an increase are followed up on the same day, and usually within minutes.
In addition, these remote locations will need scalable and reliable backup connections in order to meet new network demands. MHO can overlay dedicated internet over our metro ethernet to help add bandwidth capacity for those working from home. This creates a way your company to scale bandwidth and services securely over the same network and hardware infrastructure used for metro ethernet.
As bandwidth and networks are scaled, it is important to make sure security is a focus. MHO has made a significant investment in developing security features, policies and processes to reassure customers that its solutions are secure. That commitment to best practices and technological innovation is an ongoing effort designed to detect, prevent and respond to potential threats. We are continually expanding and enhancing our security capabilities and compliance certifications to aggressively defend your wireless networks from those who are continually working to attack them.
Quick Installation
Multiple locations will be going up rapidly now, and Internet and network capabilities are needed for each. In addition, some local governments are looking at hotels and other locations to serve as additional treatment locations (more beds) for patients. These will also require a rapid conversion and fast networking solution. MHO Fixed Wireless Internet and networking systems can be installed and fully operable within 10 business days of submitting a complete order.
At times there may be installations on a roof or location that may require some additional approvals. This shouldn't scare anyone, it is a common practice that requires multiple items to be submitted for the process. Service providers such as MHO are there to help you with the process.
MHO Can Help
MHO Fixed Wireless operates over our owned and exclusively operated fully-meshed wireless Ethernet network, with a Multi-protocol Label Switching (MPLS) core. We created our secure, private network from the ground up, using state-of-the-art, point-to-point microwave technology, and we can connect Local Area Network (LAN) to LAN between two or more business locations, or to an offsite data center within the Metro area with speeds from 10 Mbps to 10 Gbps.
As hospitals and healthcare companies gear up to meet the mounting health crisis from COVID-19, MHO Fixed Wireless can provide the Internet and networking solutions they will require. Call us today at 877-WANT-MHO or connect with us online to check for availability in your area.