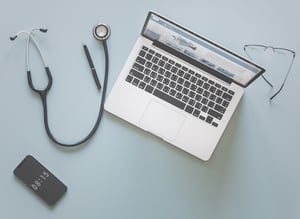 Like water, sewage, and electricity, stable and reliable internet access has become an essential utility for the healthcare industry. With more mission-critical applications and data sources moving to cloud computing, connectivity issues that result in internet downtime can become costly. And with healthcare internet services, costs can often be measured in more ways than money.
Internet of Things
The Internet of Things provides healthcare organizations with next level intelligence that increases operational efficiency, patient care, and innovation. In healthcare, the level of accountability is high, and with good reason. Streamlined inventories with accurate counts, medication monitoring, and digital patient records are just some of the ways the IoT contributes to the productivity and efficiency of healthcare internet services.
Big Data
Big data refers to vast quantities of data that are too large for complex or traditional technology to control or analyze. In healthcare, when the term big data is used, it usually refers to digitized health records, although this is not the only use. Though this practice of using digitized health records is still growing, a report released in January 2017 by PwC Health Research Institute revealed that approximately 90% of hospitals have at least basic EHRs (electronic health records), up from 9% only 10 years ago.
Communication
Communication between patients and healthcare providers, and among physicians, is increasing dramatically. Patients can message their personal physician and receive a reply without time wasted in waiting rooms or on the telephone. Many hospitals connect with specialists in real-time video conferences to help with diagnosing patient issues. Reliable healthcare internet services in these outlying areas are vital.
Will System Redundancy Work?
To prevent costly revenue and productivity losses that can occur from downtime, many healthcare providers have deployed an internet continuity plan that consists of either redundancy of the same systems or deploying two different systems. Often this is in the form of fiber optic line and a Cable Modem or T1'(s) line. But local hard-wired carriers share the same conduits and wiring centers as local phone and cable companies. Therefore, if one line is compromised, there is a good chance the others will be, too. This defeats the premise of redundancy and leaves health care providers with serious connectivity issues.
The Benefits of Fixed Wireless
For healthcare internet service that is cost-effective and features diverse carrier and conduit connectivity, fixed wireless delivers true system redundancy and more. It provides high-speed, dedicated broadband for healthcare and other business applications that are delivered securely through the air instead of underground. In fact, fixed wireless often becomes the primary conduit of data as companies discover the benefits.
Other benefits of fixed wireless include:
Installs quickly without digging

Can Cover Large Areas

Utilizes full duplex radios with the latest point-to-point microwave technology

Offers a Low Latency Connection
MHO is the first fixed wireless company that is CE 2.0 MEF Certified. We use only carrier-class, full duplex radios with the latest in point-to-point microwave technology, all designed to keep healthcare providers up to speed. Contact us today to check the availability of healthcare internet services in your area.