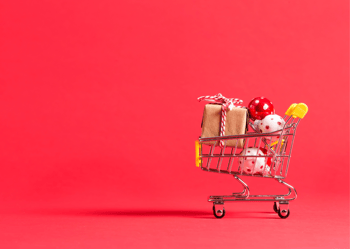 It's time for holiday shopping and you have your list in hand. After considerable time browsing an online store, choosing sizes and colors, and selecting just the right gifts to populate your shopping cart, you proceed to review your cart items when suddenly — you encounter an error and lose everything!
If you've encountered this painful scenario before, you know the frustration, even anger, you feel after wasting so much time and effort. There's no way you will do it all over again on the same site and risk even more frustrating failures. So, list in hand, you move on to another seller's website that might have better functionality.
Avoid Epic Failures from Rapid Growth
It is vital before even addressing your technology needs that you plan for growth. Understand what you believe the demand will be, pay attention to trends in your traffic, and plan your sales according to the level of marketing that you put into it. Your sales plan will inform your technology plan. Whatever it is you plan for, increase it to allow for a margin of error.
What you don't want to have happen is what happened in the release of PlayStation 5 and Xbox pre-orders in 2020. Major retailers, including Target, BustBuy, GameStop, Amazon, and WalMart, should have been prepared for the incredible buying blitz that always accompanies the release of any new gaming platform (and this time, there were two!). Instead, they opened pre ordering a full day before Sony had authorized, and the resulting rush crashed major e-commerce CMS systems for up to a week.
These big retailers ended up with egg on their face and numerous lost orders, plus hundreds of thousands of dissatisfied customers that will likely think twice before going to that particular retailer again to place a popular online order.
Reasons for Website & Shopping Cart Crashes
The reasons for your company website crashes can be many and varied. Of course, denial of service attacks are more common, as bad actors become bolder and more knowledgeable. Add to this ransomware and malware that continues to proliferate daily. Code errors and resource expirations cause many sites to go down and surrender many dollars in revenue and lost customer traffic.
A lack of planning could see you outgrow your site hosting plan, resulting in redirected traffic and missed sales. Depending on the location of your cloud host, you could lose connection with them due to unforeseen and uncontrollable circumstances. And of course, as seen above, traffic tsunamis can render your e-commerce website hors-de-combat and unavailable for extended periods of time.
The Importance of Bandwidth & Your Internet Provider
The basic requirements of a reliable Internet service provider and adequate bandwidth are foundational to the success of your e-commerce business. During the holiday season, it is especially important to have the ability to expand the bandwidth of your data and Internet. This is far more difficult with fiber lines than dedicated wireless Internet options, because it is dedicated and the lines are not shared.
Imagine having a website that crashes because of improper network and bandwidth preparations. Information Technology Intelligence Consulting (ITIC) calculates that an hour of downtime costs 98% of businesses upwards of $100,000. For major online sellers like Amazon, it's considerably more — they experienced an outage that was less than an hour and cost around $4.8 million, or $120,000 per minute.
What could an hour of downtime cost you? Use MHO's downtime calculator to calculate its impact for your business.
The core needs to start and maintain an ecommerce business are:
Uptime and Reliability
MHO Enterprise Internet is a dedicated fixed wireless connection that comes with a leading standard Service Level Agreement (SLA) of 99.99% uptime. This is the highest level of uptime reliability in the industry. We also provide best-in-class 24/7 monitoring and support to quickly solve problems and enable your business to keep apace with the speed of e-commerce sales and demand.
Speed & Scalability
E-commerce network requirements demand considerable speed for automated operations. MHO fixed wireless Internet provides lightning-fast speed and scalable bandwidth from 20 Mbps to 1Gbps. Most requests for upgrades are handled the same day, usually within minutes. Plus, our standard Multi-protocol Label Switching (MPLS) core network enables core redundancy, low latency and fast rerouting for even greater guaranteed speed.
Security
MHO's state-of-the-art networking solutions offer the best in secure connections with FCC licensed, point-to-point microwave radio technology. Your e-commerce sales and data communications will be completely secure, able to handle a wide variety of applications and services.
Redundancy
Redundancy is one of the basic elements of any successful e-commerce operation. MHO Enterprise delivers a strong, reliable connection using the latest in Carrier Class, FCC Licensed, point-to-point microwave technology. Many companies choose MHO fixed wireless as their primary connection, while others depend on us for a secondary connection for when fiber or other sources go down.
Quick Installation
Are you adding a new location? You need Internet and networking solutions to be up and running quickly. With a fiber installation, this will likely take far too long! The MHO installation team will have your network and connectivity up and running within 10 days of receiving roof rights.
Is your e-commerce business ready for the holiday shopping rush? The right Internet provider can mean the difference between record sales or record-setting downtime and lost revenue. Contact MHO today for a consultation and learn more about fixed wireless Internet and networking solutions for your business.