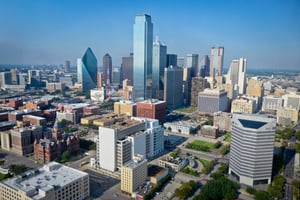 In Dallas, TX, they say, "Big Things Happen Here." From a night out in Deep Ellum to lunch in Trinity Groves and a day trip to The Star in Frisco, there is much to discover. You really can do it all in Dallas. And that includes enjoying fast Dallas Internet business connections.
Whether your Dallas, Texas, business is big or small, you likely depend on quality Dallas Internet connections. Texas businesses have a number of options to evaluate when choosing a local Internet provider. In this article, we'll examine some important factors that are worthy of a close look.
The Dallas Internet Market
Texas businesses enjoy high quality and availability in the Dallas Internet market. According to the High-Speed Internet consumer website's Texas Internet information, The Lone Star State is the 45th most-connected state and is a highly competitive market with 74 different providers.
There are 55 different providers of business Internet for Dallas customers, with most providing partial coverage for the city with DSL broadband or Cable.
Weather Threats to Dallas Internet
Much of Texas is hot and humid, with sparse rainfall, although some periodic thunderstorms can produce heavy rains and flash flooding. Businesses connecting to Dallas Internet providers via cable, satellite, or fiber may experience service disruptions from rain fade, localized flooding, or seismic activity.
Also, Texas has the highest average annual number of tornadoes in the United States, averaging 132 per year. Dallas is number six on the list of the top ten cities in Texas for tornadoes. Obviously, there is a significant risk of damage to Dallas Internet infrastructure from tornadoes, with resulting outages for periods of time.
Dallas Internet Infrastructure
Most of metro Dallas enjoys significant Internet coverage from DSL and cable connections, which are, of course, routed underground. Installing these traditional landline connections in Dallas is typically easier due to the flat terrain and soft soil. However, these conditions are also why flooding and tornadoes can easily disrupt Dallas Internet connections.
If your business requires any additional infrastructure to gain a Dallas Internet connection, it may be slowed down if it is necessary to cross major roads and highways, waterways, railroads, and other easements. Certain local restrictions may impose time limits on breaking through newly paved or constructed roadways.
Infrastructure in some areas is rather old; however, investments are being made by the major Internet companies to upgrade systems and even install fiber. But, fiber coverage is slow in coming, and depending on your location, it could be a while before it is available as an option for your new or existing business.
Fixed Wireless Options for Dallas Internet
The best business option for Dallas Internet is a fixed wireless connection. Fixed wireless delivers unshakable path stability and quick installation. Instead of underground cables that can be broken or destroyed by flooding, tornadoes, or construction accidents, fixed wireless infrastructure is above ground, many times affixed to your own building.
Fixed wireless utilizes radio waves to provide a secure, high-speed, low latency Internet connection for your business that is not affected by extreme weather like heavy rain, high winds, or wildfires. It is so reliable that many companies are opting for a fixed wireless primary connection to the Internet with a fiber or cable backup.
For a Dallas Internet business connection that withstands unplanned outages and maintains maximum uptime, and also includes fast installation and gold-standard customer service, look to MHO for effective and secure fixed wireless Internet options in your area of the city.