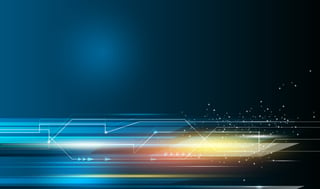 It's the term heard all over the internet right now: 5G. Commonly talked about in breathless anticipation, and set to start showing up commercially in the mid-2019 range, this connectivity method means big change ahead. But what is it? And what kind of impact will it have on your own operations?
What Is 5G?
5G is a blanket term for "fifth generation mobile network." The
Groupe Speciale Mobile Association
(GSMA) has an eight-point scale for measuring whether or not a network qualifies as 5G. Not all of these need to be met; even the GSMA acknowledges "....it is difficult to conceive of a new technology that could meet all of these conditions simultaneously."
Availability. There should be five-nines (99.999%) network availability and 100% network coverage in a given region, or at least the perception of both.
Bandwidth.

Bandwidth should measure 1000 times the per unit area, and cover 10 to 100 times the number of connected devices.
Energy use.

The connection should use 90% less energy, and pose a 10 year battery life for machine-type devices that use little power on the network.
Speed. A 5G connection should offer between 1 Gbps and 10 Gbps connections to end points, with a latency of one millisecond or less.
What Will 5G Do To -- and For -- My Bandwidth Needs?
Now that we know what 5G is, and isn't, we get a much better idea of what this kind of technology will do for our bandwidth needs.
Current needs will be met briskly.

The network as we know it currently isn't in the best of shape, but nor is it at immediate risk of failure. Thus, 5G access will allow us to carry on readily, meeting needs in streaming video, big data analytics and the like.
Previously unconsidered needs will likely also be met quickly.

One of the biggest problems facing an internet-connected society is the "bandwidth gap," most notably in rural areas. 5G's wireless nature should open up this field and bring connectivity to the previously unconnected, or minimally-connected.
New needs will emerge rapidly.

Some advance that there are many potential new uses for bandwidth that are as yet unused or undiscovered in points like augmented reality or virtual reality. With a substantial new source of bandwidth available, and in more places, that greater connectivity will likely put a major strain on the new connection type.
The coming of 5G signifies an era in which we need faster connections and better capabilities from our internet services. While 5G is the next generation of cellular, business internet is escalating in speed, reliability, and security as well. Talk to
MHO Networks
today to learn more about what the future of wireless looks like, and how you can ready your business for new bandwidth needs down the line.