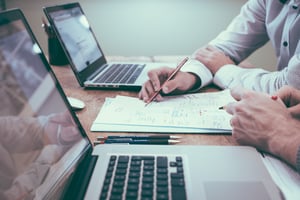 Early each year, industry and business leaders look ahead to what they can expect in the coming 12 months. In this article, MHO shares how we see the future of fixed wireless, and how it will continue to benefit users through the coming year. If you're curious about how a fixed wireless Internet connection could benefit your business, keep reading, then contact us with your questions.
A Broad Look at the Future of Fixed Wireless
What is fixed wireless? A fixed wireless Internet connection uses high-speed radio signals to deliver dedicated Internet to customers, instead of physical cables. Fixed wireless users have an outdoor radio receiver mounted to the building or a fixture outside and a Wi-Fi gateway inside. The connection is line-of-sight between the client business property and a nearby tower.
If you haven't heard of fixed wireless Internet, you soon will. Several large companies are jumping on the fixed wireless wagon and investing huge amounts of capital to develop wireless radio networks.
Due to government subsidies, inexpensive equipment, and a wide open market, numbers of small startups are offering local fixed wireless Internet services. While some enterprise companies, like Verizon and AT&T, already provide higher grade point-to-point FCC licensed connections, there are many local providers who are entering the market.
How much overall growth will that generate across the globe? Market analysis firm ABI Research forecasts that, "By 2022, worldwide fixed wireless broadband markets are expected to generate $45.2 billion, thanks to an estimated compound annual growth rate of 26%." That is certainly good news for fixed wireless providers, as well as businesses that seek a better alternative to more expensive and less reliable Internet service.
How Will the Future of Fixed Wireless Evolve?
We believe the following changes will have a significant impact on how fixed wireless Internet will evolve in the coming years. Let's examine a few details about each.
Fixed Wireless Will Continue to Solve the Challenges Facing Fiber Providers
Although these problems are certainly not going away any time soon, fixed wireless providers will provide workable and attractive solutions to these common fiber issues.
Slow installs

Unforeseen install delays

Expensive fiber builds
Fiber Internet ISPs are not typically faced with competition, due to the high cost of entry into the market (equipment, installations, etc.). In fact, most believe it is this lack of competition that explains why internet service providers have some of the lowest customer satisfaction metrics of almost any sector of the U.S. economy.
This impacts the future of fixed wireless because it offers ISPs an opportunity to compete in rural and urban markets. Fixed wireless expenses run at about a tenth of the cost of building a physical fiber infrastructure. And, since those high costs are typically passed on to consumers, fixed wireless is increasingly viewed as a cost-effective and reliable Internet option.
New 5G (and Beyond) Backhaul Solutions for Mobile Networks
Mobile Backhaul (MBH) refers to the connection of wireless networks to wireline networks, which are subsequently connected to data centers that host the content and applications accessed by mobile clients. In short, a wireless Internet connection eventually must connect to a core network, which is connected to the Internet. This core network is mostly dedicated fiber, copper, some microwave, and even occasionally satellite links.
In order to meet the new 5G standard, and provide even faster data speeds envisioned for the near future, alternative technologies are being developed, and some existing ones combined, in order to produce the data throughput rates necessary to achieve higher speeds. Among these include capacity boosting technologies, newer bands opening for use, and carrier aggregation techniques.
Microwave Radios Will be Able to Support More Bandwidth (10 Gb+)
Looking towards the future, Fixed wireless has the potential to compete side by side with fiber while being able to offer the same throughput. Plus, antennas and other infrastructure can be installed faster and at a fraction of the cost of fiber installations.
In a statement from ABI Research Industry, analyst Khin Sandi Lynn affirmed, "5G fixed broadband access is expected to enable robust services with a reliable capacity to meet the need of residential broadband users. 5G technology can support a theoretical speed up to 20 Gbps with latency [of] 1 ms, enabling operators to provide superior broadband access without installing fiber-optic cables to every single household."
This is good news for businesses that routinely transmit and receive huge amounts of data, sometimes each minute. Higher capacity equipment, combined with new technology, will allow greater bandwidth and lower latency than other, restrictive Internet solutions.
Fixed Wireless Will Build Networks in Rural and Remote Areas
According to statements from the CEO of wireless Internet ISP Open Broadband, when explaining his motivations for entering the wireless Internet market, statistics provided by the Federal Communications Commission (FCC) were a decision-clincher. Those numbers revealed that 48% of residents had access to only one Internet provider, and around 70% had access to either one or no local provider. The same would hold true for businesses.
But even in other places—where properties are close together and DSL is still prevalent—fixed wireless is a truly viable option. As we move farther into 2019, new wireless technologies, more available spectrum, and government money for rural broadband will boost the value and availability of wireless internet options.
The future of fixed wireless indeed appears bright. Many technical innovations and market conditions are poised to boost growth. Above all, perhaps, are the customers who are increasingly dissatisfied with their wired providers. Because of them and the other above-named factors, the potential market for fixed wireless appears set to grow beyond expectations.
Is your business looking for a reliable Internet connection?
MHO
business networking and Internet solutions are fast, reliable, and provide true business-grade connectivity with great bandwidth speeds. Why not
connect with us today
for all your network performance needs?