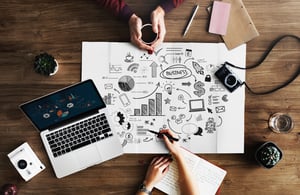 Have you really considered if your business needs business Internet service? And do you really know the differences between residential grade and business Internet? Knowing the difference could save you money on a service you don't need.
Every ISP offers a business-grade Internet connection service that purportedly offers more advanced or enhanced services over a residential connection. And, of course, these business-level services cost more money. Before you jump in and subscribe to the local ISPs business Internet plan, take the time to evaluate your needs.
Does My Company Need Business Internet?
Ask yourself the following questions when considering Internet service packages for your company. Your answers will help you determine your Internet connection needs.
How many people in your company are using the Internet?
The more people a business has, the more contention ratio matters. The higher the contention ratio, the greater the number of users that may be trying to use the actual bandwidth at any one time. This means a slower connection, especially at peak times. Although rarely published, residential Internet service is typically shared by approximately three times more users than a dedicated business service.
How web-based are your company services and operations?
The more your company relies on the Internet to conduct business, the more important speed considerations become. Cloud-based resources are used by more and more companies, along with real-time data transfers and other bandwidth-heavy applications. If your company depends on these kinds of online resources for day-to-day operations, then a dedicated business Internet connection is needed.
How much confidential business and/or client data are you managing within your network?
The security of your company and client information and communications is a paramount consideration. A major breach to your online security could be disastrous. Because of this, many business Internet packages include enhanced security features to ensure that your important data is completely secure. Business Internet usually comes with a security package that includes antivirus, anti-spyware, firewall, spam control, and online backup. This is usually backed with a 24/7 support team to help you solve any problems quickly.
How much does your company depend on the reliability of your connection?
Does your connection correlate with your earnings and business success? According to AppDynamics /Cisco research, downtime can cost a small to medium business between $8,580 and $74,000 per hour. Service Level Agreements and redundancy are important here to ensure that you have a backup plan as well as ensured time for resolving issues when your network is facing problems. Residential Internet services do not usually come with Service Level Agreements (SLAs) and are generally a best effort service.
Choosing the Right Internet Service for Your Company
Business owners work hard to make every dollar count. Sometimes, the budget may seem to indicate that your best choice is to go with a cheaper, best-effort residential internet service. It's true that business Internet typically costs more. However, you can expect more consistent speeds, additional security features, and better customer support—all of which can help your business perform better.
Cutting corners on your Internet service can put you at a disadvantage when it comes to accomplishing your day-to-day tasks. If reliable Internet is crucial for your company, you must think of it as an investment rather than a simple cost. From that point of view, you still want to invest as wisely as possible.
When it's time to upgrade, an MHO fixed wireless business Internet connection has just what you need. You'll get a dedicated connection backed by 24/7 tech support for an affordable price, and with astonishingly quick installation. Drop us a line for more information.