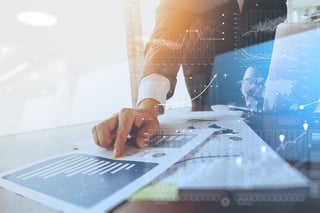 Without bandwidth, there's a lot of life online that just doesn't get done. Sure, no one thought too much about bandwidth in the text-heavy, low-resolution days of online living, but today, it's just impossible not to. With video, conferencing, analytics tools, and all the other potential uses of bandwidth, we need it now more than ever. The financial market is no exception.
Incoming Communications? Bandwidth.
Financial organizations need to be able to field customer concerns at any given time. From simple questions about hours or balances to the most complex questions of future investment tracking, the incoming communications systems have to be ready to allow these calls through. It's not just customer calling, though; it's also contact made from other organizations, government regulators, and other such operations that need answers and information from the financial organization.
Outbound Communications? More Bandwidth.
Financial organizations also need to be able to provide a way to connect to the outside. Whether it's research being done, calls to customers being made, calls to suppliers carried out, or the myriad of other kinds of contact involved, bandwidth has to be on hand to allow the contact to flow out from the organization. Financial organizations need to be able to inform current customers, make contact with potential new customers, and carry out a variety of operations, all of which require bandwidth to be possible.
Internal Point-to-Point Communications? Still More Bandwidth.
There are even breeds of communication that need to go on within a financial organization; whether it's remote workers that need to connect back to the primary power structure via conferencing tools or whether it's information going out to those users via data channels, some connections need to take place among the members of the organization internally.
...That's a Lot of Bandwidth.
With Internet service providers often pleading poverty when it comes to improving Internet service, what can provide the kind of bandwidth that financial organizations need to succeed? There are a growing number of answers to that question, including fixed wireless service. Offering high speeds and low latency, often without the impediment of a bandwidth cap, fixed wireless can be just the thing to get bandwidth to a business.
With a growing number of uses for that bandwidth, businesses require no small amount of it to keep going. When it comes time to get that bandwidth, fixed wireless like that offered by MHO Networks can deliver with speed and latency that will surprise many...and all without a bandwidth cap.