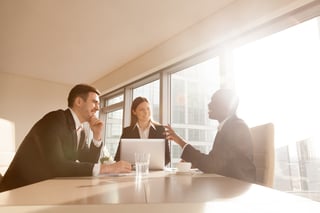 Your internet connection is one of the most vital business decisions you can make. There's just no two ways about it; from video conferences to emails to research to even a cute cat video break, you need the right kind of internet connection. Getting the most out of internet providers, therefore, becomes crucial to overall operations. But what should you be looking for?
How Do You Want to be Treated?
Your options in internet connectivity are inherently limited by geography. As long as you have any choice in the field at all, you should watch for the provider who takes the time to understand your business and what you use the internet for. If a provider can start making recommendations, that's a sign to carry on.
What Should Internet Providers Offer Me?
With one excellent indicator of likely success in hand—an internet provider who takes the time to understand—there are several other points to look for.
Bandwidth. The first question to ask is "do you have a bandwidth cap?". If the answer is anything but "no," be careful here. Any cap represents a potential for diminished service down the line. No one wants to hit a cap, get throttled or suffer huge overage bills.
Security. An internet provider should be ready to offer at least a breed of security. Don't trust the provider's security alone—internal firewalls and virus protection is important—but some protection from the provider never hurts.
Available uptime. The more uptime, the more your connection will be running. If your internet provider offers a service-level agreement (SLA), that's a good sign; it's a document quantifying uptime complete with remedies should that agreement be violated.
Response time. Downtime is inevitable. When you lose service, restoring it is first priority, and you should consider how your provider responds. Does that provider have a repair guarantee timeframe? Can the provider assure you of when your network will be back up and running?
How Do I Get Started With the Right Internet Provider?
The best place to start in finding the right internet provider is to contact us at MHO. We've got an extensive background in connectivity solutions ranging from 10 Mbps to multiple Gb, and can offer not only Dedicated Internet but also Metro Ethernet options to cover your needs. No matter what the priority is for you, just drop us a line and we'll show you the full range of options to match.