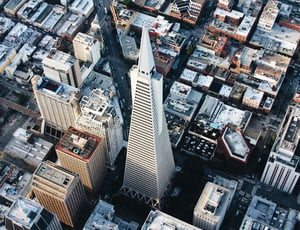 "Some say we're a little spoiled in California," says actress and model Yaya DaCosta in the opening of Visit California's latest commercial. She's right—it's easy to feel spoiled when you're surrounded by California's natural settings and iconic destinations, like Redwood National Park, the Fleury Estate Winery in legendary Napa Valley, beautiful Lake Tahoe, and the towering Golden Gate Bridge.
Spread throughout such an amazing panorama, California businesses want and need quality Internet connections. California Internet buyers must evaluate a number of important considerations when choosing a local Internet provider. In this article, let's examine some crucial factors that warrant a close look.
Extreme Conditions and California Internet
Many may not consider extreme weather to be a problem in sunny California. And this is true to a certain extent, considering what other states may encounter. Sparse rainfall and the absence of serious coastal weather threats makes California one of the most beautiful places to live and operate a business. However, The Golden State has its own special brand of extreme risks.
While underground Internet cables provide a significant amount of protection from the elements, California is known for considerable seismic activity, which can pose a higher-than-average risk of damage. This and other natural disasters can destroy Internet infrastructure, leaving California businesses effectively cut off from vital digital connections.
In 1989, the 6.9 magnitude Loma Prieta Earthquake did major damage to the Bay Area. Internet was not a big thing then; but imagine the chaos such a disaster would cause in today's hyper-connected society. In addition, persistent wildfires in the North Bay area and elsewhere have caused widespread damage to Internet and other communications services.
Current California Internet Infrastructure
What is already available where your business is located? Only 16% of California Internet customers have access to fiber. If your California company locations require a high-speed, low latency, constant Internet connection, fiber may not be available in your particular area, now or in the foreseeable future.
California is a highly-connected state, but topographical or other considerations may interfere in the event you or your local Internet provider need to install new infrastructure. The state legislature and local jurisdictions can enact guidelines or restrictions that affect constructing new cable or fiber Internet infrastructure.
For example, Marin County was on the cusp of enjoying access to a new fiber network until state lawmakers enacted roadblocks in 2017 that add confusing "right of first refusal" stipulations into the mix. Now, citizens may have to wait additional years until major providers can settle the issue of who will provide services.
Fixed Wireless California Internet Options
A great business option for California Internet is a fixed wireless connection. Fixed wireless delivers complete path stability and easy installation because the technology doesn't rely on underground cables, which can be easily damaged by earthquakes or other factors. Fixed wireless infrastructure can even be erected quickly after a natural disaster to restore Internet communication connections.
Fixed wireless utilizes radio waves to provide a secure, high-speed, low latency Internet connection for your business that is not affected by extreme weather like high winds or wildfires. They are so reliable that many companies choose to use fixed wireless as their primary Internet connection with a fiber or cable backup.
In the case of legislative restrictions like the example above in Marin County, fixed wireless Internet may be the only practical solution. "Reliable and high-speed internet may only be available with towers and wireless transmitters in rural West Marin," said Marin County Supervisor Dennis Rodoni.
For a California Internet infrastructure that withstands unplanned outages and maintains maximum uptime, all with quick installation and impeccable customer service, look to MHO for an effective and secure fixed wireless Internet options in your area.