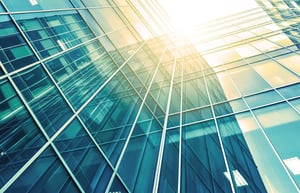 Internet service is a vital consideration for building owners and property owners of multi-tenant structures. Apartment and office buildings have some unique challenges when it comes to providing internet to tenants, and that's where using a point-to-point connection can be a real selling point.
Why is internet important for building owners and property managers to keep in mind?
The internet available for your building is a huge attractor for prospective tenants.
If your internet is unreliable, tenants will complain to property management and burden staff.
Connectivity is a requirement for modern buildings -- make sure your properties can stay competitive.
Multi-tenant internet service carries with it several advantages over more common systems like cable and fiber service.
Better security. There are many options for multi-tenant internet, but a point-to-point fixed wireless connection removes cables from the equation. This makes the connection more secure as there's less opportunity to physically tap into the connection as is possible with fiber and cable connections.
Improved reliability. The lack of cables involved in point-to-point connectivity also improves reliability. With no cables to cut, one major cause of signal failure is eliminated.
Improved performance. Depending on location and availability, many common forms of internet access won't reach much over 10 Mbps, and often come with a data cap. Fixed wireless can easily reach 100 Mbps or higher, and often comes without a bandwidth cap to get in the way.
More readily available. Setting up fixed wireless using point-to-point microwave is a much easier proposition and in many cases less expensive than trying to hook a building up to fiber. In 2015, Northeast Nebraska Telephone Company quoted a customer a rate of almost $42,000 to set up fiber service. This was a bargain over the Windstream quote to the same customer of $383,500. Fiber and cable connections require the burial of miles of wires, and point-to-point connectivity uses a fixed wireless link, making it available anywhere within range of the carrier's towers.
Faster installations. One of the biggest benefits of a system that's more readily available is that installing it is also faster. No cables to bury, no cables to connect inside the building, just an antenna and radio on the roof to establish one of the points in a point-to-point connection, and then a connection for the building's tenant users is all it takes.
How Do I Get Started Using Multi-Tenant Internet in a Multi-Tenant Building?
If you're looking to provide multi-tenant internet service, then you'll want to start with dropping us a line at MHO. We have several levels of service available, all without bandwidth caps or similar impediments that might make your experience anything less than top-notch.