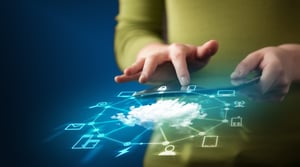 With businesses increasingly turning to cloud-based operations, it's no surprise that they are eager to optimize their environments accordingly to take advantage of the rise of cloud. One of the biggest areas of improvement that most businesses can tackle for cloud is network performance. Out of all the things network engineers and operators can try, turning to fixed wireless can actually be a major part of improving the environment for cloud.
How Can Fixed Wireless Improve Cloud Operations?
Fixed wireless connectivity has several major advantages that make cloud operations work better.
Improved speed. Some fixed wireless works at gigabit speeds, which may exceed many competing providers' ability to deliver, ensuring that the cloud-based operations always have enough speed to work with.
Improved reliability. Reliability actually improves on several fronts, and makes it more likely that cloud-based operations will be able to run.
No bandwidth cap.

Many fixed wireless providers offer service without use restrictions on bandwidth, meaning that a cloud application won't have to suddenly run on dial-up speeds because some arbitrary line was crossed that month.

Less chance of failure.

Fixed wireless has no cords or wires to damage, as the name suggests. This improves the chance that the connection will be up and active at any given time, since there are fewer points of failure. Cloud apps depend on always-on connectivity, which fixed wireless can offer.
Reduced latency. Latency, the time it takes a signal to move from one point to another, is actually improved with fixed wireless. Not only is there a geographic limit to how far the signal can go and still work, it also goes in a straight line from one point to another. This makes cloud apps more responsive and able to deliver their functions when needed.
Easier installation. While Wi-Fi in general helps make expansions easier, it only works so far. Fixed wireless allows for easier installation and operation, particularly across multiple branches. When you need cloud users running in multiple buildings, fixed wireless really shines against its terrestrial competitors, which require costly and complex operations to connect.
Ensures access to the Cloud. If your business only has one internet provider, and that provider experiences an outage resulting in downtime for your business, you lose access to your cloud applications. Having a fixed wireless connection and a fiber or copper connection not only lessens your risk for downtime, it pads secure access to your cloud apps.
Ultimately, to fully take advantage of all the benefits the cloud can deliver to your business, consider your internet service. Along with fiber options (and especially if fiber isn't available), fixed wireless will help you get the most out of your cloud applications and ensure reliability, availability, and scalability.
How Do I Get Started Using Fixed Wireless?
Contact us at MHO. We've got a wide range of solutions for businesses of all sizes, and even specific solutions for businesses in healthcare, education and beyond.