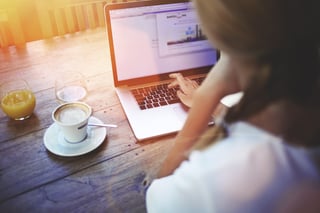 With all the options there are these days for improving a network's operations, it's easy to look at the whole thing and wonder where in the world to start. For those considering software-defined wide area networking (SD-WAN), it's one of the best options around in terms of improving network performance.
SD-WAN Improves Traffic Flow
By adding SD-WAN operations to a standard office environment, that office can take advantage of significantly improved
network traffic flow
thanks largely to traffic prioritization.
Under a normal system, users are basically pulling bandwidth on a first-come-first-served basis. So if the sales department is sending a flood of emails out for its newest round of email marketing, but HR wants to stage a video conference, that leaves the two fighting over bandwidth. With traffic prioritization, the emails can be sent out intermittently to make the most use of available bandwidth.
SD-WAN Improves Network Reliability
That improvement in traffic flow is actually part of a larger improvement in network reliability. Sure, some will say here that that traffic flow can be improved with load balancers -- and it can to a degree -- but SD-WAN does more than that. It also improves overall network reliability. How?
No more broadband backup. There's no longer a need to hold broadband connections as a backup with SD-WAN. Now, all broadband connections are available for use at all times, making a more reliable network.
Improve error correction. SD-WAN systems allow for both forward error correction and packet error correction. With multiple error corrections going on at once, that improves the overall stability of the network and reduces the odds of failure.
Add overall bandwidth. The typical local area network (LAN) is running at gigabit speed, while WAN tends to run in the megabit range. By stepping up to an SD-WAN, the gap is somewhat closed, meaning more bandwidth.
SD-WAN Improves Network Costs
Bottom line impact is one of the greatest impacts any new product or service can boast. Reducing costs means improving profit, as long as revenue remains static. SD-WAN, meanwhile, can reduce costs on several fronts, as an
Aberdeen Essentials
study found.
Reduced downtime. If network downtime drops, then there's more able to be done in the same time. Formerly lost opportunities can be acted on. Businesses using SD-WAN are 25 percent more likely to see less downtime.
Reduced capital spending. A network up more often means less costly physical augmentation. Sixty-five percent of businesses with SD-WANs saw at least some reductions in capital expenditures.
Better branch connections. Connecting various branches allows information to be more readily shared and used appropriately. SD-WAN is specifically meant to improve inter-branch connections.
How Do I Get Started With SD-WAN?
If you're ready to learn about technologies that can improve your network, then you're ready to call
MHO Networks
. Whether among branches or with the outside world, MHO Networks can help you establish the connectivity your business needs to succeed.