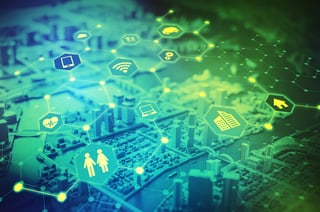 While wide area networks (WANs) have been a going concern
since the 1970s
, and changes have come and gone therein, some of the biggest changes seen yet are some of the most recent. Changes like the explosive growth of cloud computing and the Internet of Things (IoT) mean big changes for the WAN.
The Very Fabric of WANs Has Altered
More and more networks are getting away from the old standard of multiprotocol label switching (MPLS), a big part of the WAN since the 1990s, and are moving instead to software-defined wide area networking (SD-WAN) technology.
Many enterprise users are discovering that business-grade or even some consumer-facing internet connections are offering more bandwidth than standard WAN services. To pass up such options, therefore, would leave businesses at a marked disadvantage.
Though not every business is moving in this direction, many are developing a
hybrid WAN environment
that calls on both the standard WAN and the overall internet to deliver the best in value.
Changes in the Cloud
The cloud in general is bringing some of the biggest changes to WAN. Greater scalability than ever is now readily accessible, and new options in apps are coming into play.
Increased scalability. With WAN and cloud systems working together, there's a better ability to take advantage of collocations and remote operations. Small and medium-sized business (SMB) users are particularly interested in this phenomenon, and more and more, the larger data center is pretty much a province of large-scale operations.
New app options. With increasing cloud-based options coming available, that means new apps available on every front. Using WAN to tap into those new apps opens up options ranging from big data analysis to customer relationship management (CRM) tools and more.
Changes From the IoT
The IoT is also representing a game-changing experience for WAN operations. Thanks to the IoT's nature as what amounts to an internet of interconnected systems, the end result is both opportunity and hazard.
Greater demand for security. With all this data flowing through a system, and more points than ever requiring access, the data prizes are richer and the means of access that much easier. A greater demand for security therefore, naturally follows.
Capacity management is almost as vital. New data is likely to stretch demand for bandwidth to a fever pitch. Trying to keep capacity straight will be vital to ensure the network can handle all the demands placed on it, making capacity management crucial.
How Can I Manage All These Changes?
This is just the tip of the iceberg when it comes to changes. While IoT and cloud systems will affect the WAN,
MHO Networks
has expertise in the connectivity that next-generation networks will require. Our experience in offering superior internet will help you take the greatest advantage of these new and powerful systems.