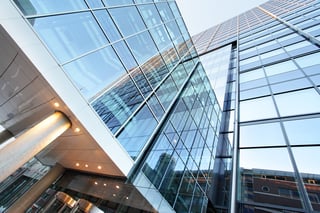 Not so long ago, a business planning a move to a certain location would ask how the schools were, or how the highways were, as important factors in deciding whether or not to set up in a certain town. Now, one of the most frequently asked questions is how the internet service is. Multi-tenant internet needs are changing as tenants look for high speeds. Building owners can benefit from high-end connectivity, and for some buildings out there, that includes fixed wireless service.
What Impact Does Fixed Wireless Have on Multi-Tenant Buildings?
Greater efficiency. While it might seem simpler at the outset to let tenants bring in their own internet providers, that could be a much greater problem than expected. A certain amount of redundancy isn't a bad thing, but many multi-vendor operations go wrong due to increased points of failure. A building where someone different loses access every so often can develop a bad reputation, and tenants may avoid that building.
Fiber troubles. Some might think just hooking a building to a fiber connection might be the way to go. Enough bandwidth for most anyone and at amazing speeds is a hard proposition to pass up. But even now, fiber isn't available just everywhere. And even when it's available, getting fiber in play and having it installed within days can be a challenge. Worse, since all fiber providers install on the ground floor it doesn't offer "true redundancy" tenants might be looking for.
Fixed Wireless fits. Having a fixed wireless option for tenants actually dovetails nicely with many current business initiatives. From avoiding the pains associated with network downtime, being able to source an internet connection quickly and having sufficient bandwidth for bring your own device (BYOD) to the mobile workforce, a robust fixed wireless connection is often the cornerstone of such plans.
Value to the tenant. Offering service before moving in can be a great way to add value and encourage new tenancy. Internet services such as fixed wireless that come with speedy time-to-install provide an attractive reason for potential new tenants to lease your space. Fixed wireless can be up and running faster than cable or fiber services, so businesses will know that they'll be installed without any costly delays.
How Do I Get a Solution for My Multi-tenant Internet Needs?
Getting started with a multi-tenant operation can be as easy as getting in touch with us at MHO. Offering a string of network services, as well as metro Ethernet and carrier operations, we have the background, experience and product lines to help get you just the right kind of connectivity you need. So when you're ready to provide serious value to tenants, just drop us a line and we'll get started.