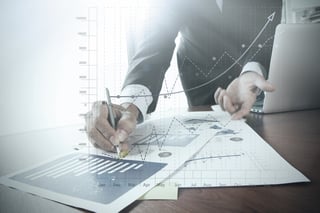 Fixed wireless can be a beneficial proposition for anyone looking for high quality internet access, but in some cases, there are industry-specific applications that make fixed wireless especially worthwhile. Financial institutions in particular have plenty of reasons to bank on fixed wireless as a powerful communications tool.
What Benefits Does Fixed Wireless Offer Financial Institutions?
Fixed wireless' makeup and features provide powerful benefits to financial institutions.
Security. Financial institutions are actually required by law to introduce security into their communications, and as such, require a communications system that's well-protected. Not only does fixed wireless allow for the establishment of high-end private networks, but its very nature allows for better protection. And fixed wireless services such as MHO's use a point-to-point connection, with just one physical access point per subscriber. This makes the connection easier to make secure.
Remote operations. While fixed wireless depends on a line-of-sight connection, that line of sight can be set somewhere fairly remote. This allows fixed wireless to become a good choice for branch offices -- a common fixture of financial services operations.
Speed. Fixed wireless connectivity is commonly a match for fiber optic connections, with speeds ranging between 10 Mbps and 500 Mbps. While gigabit service may be tougher to find, many businesses use the 10-500 Mbps speeds effectively on a daily basis to ensure necessary communications proceed effectively.
Cost effectiveness. Since fixed wireless is exactly that—wireless--it's that much easier to set up. A custom fiber deployment can cost thousands of dollars, if it's even available in a business' area. Cost savings are useful for every business, as long as service isn't sacrificed to obtain them.
Reliability. Fixed wireless does not depend on wires between the user and the service provider. This means there's no cable to accidentally cut. Additionally, since fixed wireless providers seldom use data caps—limits placed on the user's total use—it means the connection will generally be the same speed every day, regardless of file sizes sent or overall use levels. Add Service Level Agreements (SLAs) that many providers offer and you'll have a codified guarantee of reliability.
How Do I Get Started Adding Fixed Wireless to My Institution?
With fixed wireless, you can start your institution down a path of reliable connectivity, complete with improved security and the ability to work where many providers can't or won't. We at MHO offer such systems to a wide range of businesses, and financial services operations are one of our specialties. So when you want the reliability that fixed wireless can provide, just get in touch with us to get started.