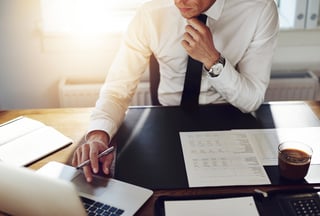 It's hard to think of business as needing to modernize; after all, most places have electric power, running water, the best internet connection and so on. What's left to modernize? Well, for those who have kept up with developments on the internet front, there's a whole world of new development waiting in the cloud. Taking advantage of cloud developments isn't as easy as just buying software, however, as cloud developments require a sound foundation of a fully-upgraded network.
How Does Dedicated Internet Help Modernize a Business?
Dedicated internet provides several key benefits in modernizing business.
Full range of options. Cloud-based systems provide ever-increasing benefits. From cloud-based backup systems for disaster recovery to cloud-based videoconferencing systems to keep in touch by remote, these systems can carry out many different purposes. Which one do you want in your business? If your answer is "why can I only have one?", then you understand the value of having the infrastructure and the right internet service to handle the range of options.
Bandwidth to spare. Businesses know about the bandwidth crunch. No business wants to have some valuable videoconferencing session take a downward turn because marketing is sending out an email advertising blitz, or because accounting won't stop watching cute cat videos. By having dedicated internet access for the higher-end cloud options, you're better able to carry out normal business while taking advantage of all of the options cloud systems can boast. It's not just about the cloud systems, but rather, the cloud systems along with the more mundane systems you're already running.
Future-proofing. Dedicated internet opens up the path to cloud options, and keeps these options running at their peak. It also provides necessary protection against future problems. Adding dedicated internet requires firms to take a closer look at the bandwidth currently in place. Issues like security and latency become that much clearer in the light of a full policy change like dedicated internet, and once problems are actually spotted, they can be fixed that much more readily.
How Do I Start Getting Dedicated Internet?
For those who want dedicated internet, the answer is as simple as dropping us a line at MHO. Not only do we have solutions for a wide range of business verticals, but we also have several services for those businesses to choose from. From last-mile services to private-line metro Ethernet, we've got the solutions you need to set up dedicated internet access and take advantage of the growing range of cloud-based and other solutions.