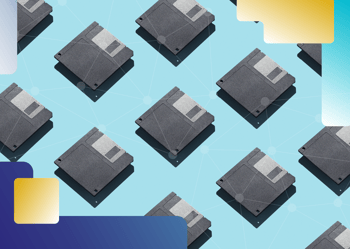 Laggy laptops, drained desktops, overworked operating systems, slack security software — these and more outdated technologies can cost businesses time, money, reputation and more. But this malaise seems to be more common that you may realize.
A study conducted by ZenBusiness in 2019 polled nearly 1,000 workers. The results were eye-opening, starting with more than 50% of respondents believing office technology was outdated. More specifically, 83.1% believed that computers were outdated and 70.5% believed software and applications were old.
How do you know when technology is too old?
How Slow Technology Adoption Impacts Your Business
Have you ever been working with multiple applications or browser tabs only to have your computer freeze? Or maybe when you are online, the speed of downloads seems to be lacking. Perhaps you've been embarrassed by your current technology during an important video call with a client. These issues can be the result of outdated hardware, applications, or even your internet connection speeds.
In the ZenBusiness study of 2019 cited above, 2 out of 3 staff members believed they experienced moderate to major impacts on business productivity. But knowing when technology is too old is only the beginning. Considering the cost of this impact can be astonishing.
Downtime due to outdated or insufficient Internet is well-documented as a huge cost center. Dependencies of Internet and data needs in today's world could net costs in the millions. The Downtime Calculator from MHO can help you see an estimated impact.
When you experience bad and/or outdated technology the impact can stretch beyond your own personal productivity. Consider the burden placed on an IT department to consistently respond to many more service tickets than necessary. It may even result in needing more employees to handle the workload. The costs can become exponential.
There are also hidden costs to employee morale resulting from bad technology. It may affect your company's ability to retain employees, job satisfaction, and general ability to be productive. After all, who wants to work with junk, or consistently be embarrassed by poor technology?
Other ways of knowing when technology is too old include:
Decreased productivity
Low website performance
Lower search engine rankings
High maintenance costs
More security breaches
Constantly lacking storage space
Losing clients
Knowing When Technology is Too Old & How to Stay Ahead of Needs
Knowing when technology is too old must lead to action. How much are you willing to lose in sales, quality team members, clients, and brand reputation before you invest in modern, up-to-date technology that adequately handles and adapts with the speed of business? Here's a few suggestions for getting a handle on your technology needs.
Monitor Data & Internet Usage and Needs
What does the data reveal about your Internet usage? Do you have the proper speeds? Are there redundancy and diversity strategies in place to prevent costly downtime issues?
Consistently Survey Employees for Tech Needs
A few times each year, survey your employees for their ideas about upgrades and improvements. Those in the trenches of your company know better than anyone else the problems that hold them back. Feedback and understanding what pain points employees have will tell you what technologies may be necessary to keep optimum efficiency.
Evaluate

Help Desk and IT Service Tickets
These records provide vital data about what consistently goes wrong in your IT infrastructure and elsewhere and where service is most required. Look for patterns of the same or related issues that could point to where you need solutions soon.
Knowing when technology is too old is only the beginning of the struggle. Get the help you need for fast, secure and reliable Internet connectivity and networking from MHO. Contact us today for more information.