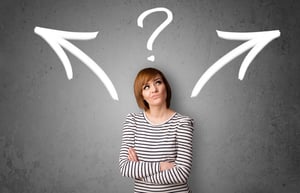 COVID-19 has caused havoc and unprecedented changes to the global economy as many businesses were forced to shut down in an effort to curb the spread of the virus. Other companies remained operational, but with vastly different and sometimes frantic changes as to how they conducted business.
Now that areas are beginning to reopen in earnest, some from being completely closed and some from partial to full-bore operations, choosing the right network provider is a vital consideration. Does your current ISP, or do the companies you have under review, provide everything you need for operations post COVID-19?
The New Normal
Perhaps the most innovative change to many companies was the adaptation to employees working from home. COVID-19 has resulted in nearly two-thirds of Americans working remotely, and many companies have indicated that some form of hybrid office structure will become the new normal.
This new hybrid office structure will place new demands on Internet and networking services like never before. Perhaps the largest issue is the increase in bandwidth due to video conferencing that is essential for office communications and team collaborations. What may have proven adequate pre-COVID-19 may now lack the resources your new setup demands.
The Available Options
Your options for business Internet and networking will vary depending on your physical location, but the primary routes that serve businesses are below.
Fiber
Fiber–optic Internet is capable of achieving incredible speeds far faster than DSL or satellite. Although it is among the top Internet alternatives, fiber isn't always available in many areas. And the costs of bringing it to your location, and into the building, can make this option far too costly for many companies.
Satellite
Satellite Internet is popular In remote areas where other types of connections aren't readily available. Installation is simple; yet the drawbacks are many. High speed is a relative term and latency is typically a huge problem, due to the distances the satellite signal must travel. Plus, adverse weather or even heavy cloud cover can affect your service.
Cable
Cable Internet is a popular and mostly reliable option, and requires a modem and a professional installation by a technician. The cable must be run to your office and throughout the building. Most local TV providers offer business Internet through cable, usually bundled with a business phone line. But when there are cable outages, you lose Internet access. And, unless you foot the bill for a direct cable connection, you share this "best effort" service with nearby customers, sharing bandwidth and slowing speeds for everyone.
Fixed Wireless
Fixed wireless Internet is one of the top choices among Internet options. Users erect antennas on their building or property in order to pick up radio Internet signals from a local provider. Antennas picking up radio signals from local towers experience less weather interference than satellite signals, resulting in a more reliable Internet connection. Fixed wireless typically has no data caps, nor does it have latency issues like satellite options. Installation is fast, days instead of weeks or months, as with a fiber installation.
Key Considerations for Choosing the Right Network Provider
In addition to what type of connection you will choose, you must consider carefully the needs of your company when reopening after COVID-19. Any existing Internet and networking solution should also be evaluated in light of some important questions. Here are some that we suggest.
Will I need more bandwidth on my network for video conferencing?
This is a vital consideration with the new hybrid office structure that is taking shape in so many businesses post COVID-19. Many employees that will now be working from home will be logging onto the company network from remote locations. This can affect how much bandwidth you will use. How much file sharing will be taking place? What is the average number of video conferences your employees will require to remain up to speed with company business? To collaborate with other team members? For training? Does your existing networking solution, or new solutions you are researching meeting new demands?
What is your estimated network capacity for both in-office and remote users?
Adding new or remote employees to the network can place new and severe demands on it that have not been envisioned before. Does your existing network have the capacity to meet these new challenges? How about the new services you are examining before reopening? What will it take for them to meet your networking needs? More equipment? Higher cost? What about the time for installing new equipment if needed?
How secure is the network for in-office and remote users?
Network security should be a high priority, especially with employees logging onto the network from remote locations that may not be as secure. How secure is your existing network? What can your network provider do to increase security? Are they willing or able to meet your needs to more security layers?
How fast/responsive is customer service when network issues arise?
Even with the best planned network, issues will arise. But those issues can cost your business money and even clients. How responsive is the customer service of your existing provider (or new provider options) when you need help now? Can they guarantee uptime and service response times? What if you need a bandwidth upgrade? How long will that require?
What are SLA provisions?
You should always carefully review all the provisions of the ISP Service Level Agreement (SLA) for each option you consider. Here is where they will actually spell out what they will and will not do, or can and cannot do, in providing Internet and network services to your company. In short, this is the contract that defines the level of performance you will be provided.
What is the installation timeframe for new service?
Installation can be the major snag with reopening your business post COVID-19. Most Internet and networking companies require days or weeks of advance notice, and then require weeks or even months to complete the installation. This can be even longer if infrastructure must be laid to reach your location, and this will significantly raise costs.
These and other factors are crucial considerations as your company gets ready to reopen after the COVID-19 pandemic. Do you need help making the right decision? MHO can provide the Internet and networking solutions you require in the timeframe you have now. Call us at (877) WANT MHO for more information.
Want to see if you are covered under our network? Click below to see if we can service your business!