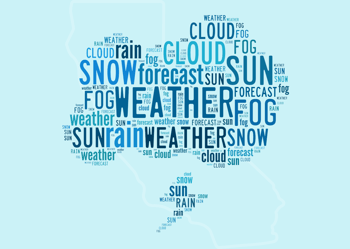 California is unique; not only in its climate and lifestyle, but in business. Technology is a key driver and The Golden State is a major port to Asia and other areas of the world. This presents unique technology needs. If you are only relying on fiber for your business Internet, your company is wide open to disaster. Consider the benefits of California fixed wireless Internet solutions for your business.
What is Unique About California?
California is indeed a beautiful place with a stable climate the majority of the time. However, it can also experience extreme events that are hard to prepare for and can be even harder to overcome. Natural disasters can knock out a variety of infrastructures. Employing multiple methods of data access, such as both fixed wireless and fiber, you reduce your vulnerability to these unpredictable events.
Earthquakes
The Bay Area sits along multiple fault lines, making the threat of earthquakes very real and unpredictable. This area has done a great job fortifying cell phone towers but the likelihood of fiber services or other services being cut off is high. Add to that the immense uptick in traffic as panicked survivors and family members try to connect via phone or text to check on their loved ones.
High Winds and Microclimates
Wind is a major weather event complicating your networks in the many microclimates that exist in California. Recently, the "atmospheric river" storms caused massive disruptions and power outages with the combination of wind, rain, and lightning. They caused a state of emergency with over 200,000 people losing power. In addition to the storms themselves, wind by itself can ignite fires. Fires are one of the most common major disasters California experiences and often made worse or started by wind. These types of disruptions can wreak havoc on your communication network, reinforcing the need to have diverse solutions.
Wildfires
Similar to earthquakes or even as a result of them, wildfires can destroy cities, towns, and infrastructure. For example, in 2021 alone, there have been 9,260 wildfires in California, causing the loss of thousands of homes and other structures, burning more than 2,233,666 acres.
Floods and Mudslides
California boasts some of the most picturesque mountains and valleys in all the United States. However, many are steep, dry, and prone to erosion when heavy rains and flooding occur. The steeply walled San Gabriel Mountains are prime examples, reaching 10,000 feet in height with steep canyons in between. The nearby coastal plains are densely populated, and at significant risk for flooding and mudslides.
Massive floods and resulting mudslides have occurred in 1914, 1938, 1992, 1993, 1995, 1998, almost every year during the 2000s and even bringing in the New Year in 2023. These events bring irresistible walls of water and debris that wash away infrastructure and cause outages that take time and resources to restore.
Civil Unrest and Disorderly Conduct
California has a large and diverse population and as with any large population, a level of disagreement and crime comes with it. These events can cause damage to property, cities may decide to close areas, and services like electricity and Internet may even be shut off. Not to mention the damage caused to infrastructure by destructive behavior.
How Can California Fixed Wireless Internet Help You Be Prepared for Anything?
Operating a business in California requires being ready for any eventuality, and that includes being prepared to keep your Internet connectivity and network up and running. Experts recommend two main avenues of preparation for companies in California. One addresses minimizing your risks of connectivity problems before a disruptive event, and the other focuses on restoring connectivity after disaster strikes.
Establish a Disaster Recovery Plan

— Having a plan when disaster strikes gives you a path to follow and pre-planned courses of action to swiftly restore services and connectivity. This should include an

Internet Networking Plan

with designated personnel to handle certain tasks, redundant plans for connections and equipment, and more.

Diversify Your Internet and Networking Infrastructure

— Establishing

a diverse and redundant network

can help prevent outages when disaster strikes.
Internet Redundancy

is basically having two completely different means of connecting to the Internet — such as fiber and dedicated wireless. One is used as the primary connection and the other is the secondary connection.

Internet Diversity

involves separating all the factors of how your dual (redundant) Internet connections provide connectivity to your business. Different ISPs use different local hubs and connect to your buildings through different routes. Damage to one connectivity solution does not necessarily affect the other.
MHO Fixed Wireless Internet and Networking solutions can provide the diversity and redundancy you need to keep your business connectivity in operation even when disaster strikes. Contact us to learn more about California fixed wireless Internet solutions in your area.