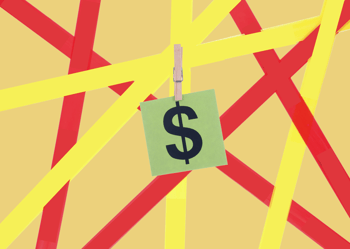 Whether you're moving offices or changing warehouse locations, it is vital to consider everything you need from a technology standpoint. Your network may be less glamorous than the building's facade or property landscaping, but it is one of the most vital aspects of the project. After all, without the backbone of a solid Internet connection, productivity goes out the window.
Deciding how to set up your connectivity infrastructure requires many considerations. The obvious ones are speed, uptime, redundancy and diversification, and the use cases or volume of devices to be connected now and into the future. Whether you decide to use fiber or dedicated wireless as your primary network, these base requirements are often satisfied if you use a proven provider.
Fiber has many positives, but there are also key considerations when installing and deciding to use it for your data. There are often mounds of red tape hidden throughout the process that could derail your company operations or slow down your installation when installing and using fiber.
Hidden Hurdles When Installing Fiber
Most businesses don't realize that fiber availability is not a given. A major fiber line must be in close proximity to your location for you to experience some semblance of a manageable installation. If you don't have a nearby fiber matrix, you will experience major cost differences and potentially large delays in your installation.
Troublesome Basics of a Fiber Installation
When your company chooses to install fiber internet service, you can expect the promised installation to generally exceed 90 days. The ISP may promise a smaller time frame, but many factors impact the process and extend the timeline. These can include:
Availability - As mentioned above, if no nearby fiber matrix exists, it means extra costs and time to bring one close enough to your location.
Conduit - Fiber runs through a protective conduit between the street to your building. If this conduit isn't already in place, you must pay for its installation. Or, if the existing conduit is full, you must wait for and pay for another one to accommodate your fiber connection.
Permits - Most municipalities are tightly regulated, meaning significant delays in securing permits for digging and construction to lay fiber cable.
Physical Aspects of Your Building - In some older buildings, upgrades are necessary so they can even accommodate a fiber installation. These can be costly and time-consuming.
Physical Obstacles - Fiber cable cannot bypass physical obstacles like roads, rivers, railroads, historical sites, and other barriers, and rerouting means more delays and higher costs.
Processing - Connecting fiber internet to any building requires cooperation with the Incumbent Local Exchange Carrier (ILEC). Your fiber ISP must cooperate with local major carriers to facilitate service or installation requests. These relationships require levels of approval that take time.
Ongoing Supply Chain Disruptions
News of global supply chain disruptions may not fill the headlines now, but the problems are still with us, and in some cases, are having far-reaching impacts. This is especially true in the communications industry. A year ago in August 2021, the National Rural Broadband Association predicted that providers would face shortfalls of 30-40% of necessary materials. Those delays have only gotten worse.
ARSTechnica shared a story from The Financial Times in July 2022 revealing how the global shortage of fiber optic cable is impacting the expansion of new networks, including 5G, new data centers by the major digital empires, and new business installations. One major impact, of course, is cost, with prices soaring as much as 70% from March 2021.
Michael Finch, an analyst with market intelligence firm Cru Group, is quoted in the article: "Given that the cost of deployment has suddenly doubled, there are now questions around whether countries are going to be able to meet targets set for infrastructure build, and whether this could have an impact on global connectivity."
This and other component shortages will trickle down and continue causing significant and costly delays in local fiber infrastructure expansions across the United States.
Dedicated Fixed Wireless is a Viable Alternative Solution
It is a good idea to have a fiber connection but it doesn't have to be your primary network and should be used with a completely alternate connectivity solution in case of a failure. In addition, in the midst of all the above issues, dedicated wireless internet could be the best way to have a new or expanding location up and running quickly at a minimal cost.
Fast installations-within 10 business days
Low latency
FCC licensed connection
Scalable bandwidth
Guaranteed reliability-99.99% uptime
MPLS Core network
No data caps
Superior customer service
Why not contact MHO today to investigate availability in your area? We're constantly expanding into new territories and providing high-quality Internet and networking solutions for numerous industries. Cut through the red tape entangling new fiber installations with reliable, affordable dedicated fixed wireless service from MHO.