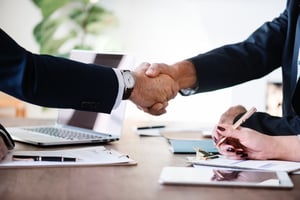 Many commercial multi-tenant buildings, hotels, multi-dwelling apartment buildings, don't have sufficient internet for their tenants. Or, they may allow their tenants to purchase their own connections. The result is multiple suppliers needing access and a host of connections running throughout the building.
Multi-tenant property internet really shouldn't be this way. There are solutions available that provide high- speed wireless internet to all tenants, all the time. More importantly, this can be a revenue generation tool for the property owner.
Rental Property Internet Fails
Whether you own or manage a commercial property, reliable high-speed internet is key. Depending on your tenants, it may be a vital service to their business or pursuits. Today, that service is just as important as water, electricity, and sewage.
When your property's internet is unexpectedly down for a few hours in the middle of the week, you not only risk losing money, you also risk damaging your reputation for delivering value. Consider a customer who needs to conduct an online transaction. If they can't make it on their own timetable, they will likely go find what they need elsewhere. Your tenants cannot afford that.
And what about idle employees? Staring at a blank screen waiting for the network to come back online is disastrous. Since 2008, Information Technology Intelligence Consulting (ITIC) has conducted an independent survey to measure the costs of downtime. Over time, the average cost of a single hour of downtime has risen by 25% to 30%. Here are some astounding statistics:
98% of organizations say a single hour of downtime costs over $100,000

81% of respondents indicated that 60 minutes of downtime costs their business over $300,000

33% of those enterprises reported that one hour of downtime costs their firms $1-5 million
Why Redundancy Matters
For many properties, a combination of fiber optics and fixed wireless is the wisest choice. Utilizing both fixed wireless and fiber is an excellent way to ensure that your tenants will remain connected. Fixed wireless uses a different method of delivery, which means that if something affects a fiber line, it usually won't affect the fixed wireless connection.
For instance, if your city decides to make improvements on a street corner, it may cause issues for any nearby fiber cables.
Or what about bandwidth solutions? Your internet package guarantees "up to" a certain speed. But, more people using that same fiber optic line means a slower connection. Additionally, lines may be aged, causing a myriad of potential issues such as cracked conduits. Buyer beware of the sales language used by fiber companies. Supplementing your connection with a backup will ensure you are always in a good position.
Fixed Wireless Internet - Your Rental Property Internet Solution
For owners of commercial spaces who want to add value to their offerings, fixed wireless internet from MHO offers the opportunity to attract high-value tenants that require high-speed business-class broadband solutions. Fixed wireless systems transfer data at gigabit speeds using radio waves transferred to rooftop antennas. Once the data has reached its target, ethernet fiber cables carry it into the building. Fixed-wireless internet is as fast as a fiber connection and offers your tenants better performance and reliability than fiber optic cable internet.
MHO Managed WiFi for Rental Property Internet Includes:
GUARANTEED RELIABILITY

- MHO's service has a standard Service Level Agreement (SLA) of Business-Class reliability.

LOW LATENCY

- Your VoIP (either SIP or Hosted PBX) and other latency-sensitive applications will run successfully.

CUSTOMER SERVICE

- If you experience service issues, we'll have your network back up-and-running within two hours.

FAST INSTALLATION

- Our installation team will have your services up and running quickly after roof rights are secured.

SCALABLE BANDWIDTH

- From 10Mbps to 1Gbps. Most requests are handled the same day or within minutes.

MPLS CORE NETWORK

- Multi-protocol Label Switching (MPLS) core network designed for fast reroute and core redundancy.
If you're looking to provide rental property internet service, then you'll want to start with dropping us a line at MHO. We have several levels of service available, so contact us today to check availability in your area.