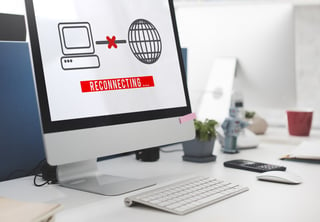 Bring Your Own Device (BYOD) programs are becoming common in many corporations. IT divisions like them because it reduces wear and tear on the company's equipment, and employees like the comfort of using their own devices. The main challenge of such programs, though, is managing the increased pressure on the company's network.
The Challenges
While the BYOD approach has a lot of benefits, there are also a few drawbacks that need to be addressed by IT management. Here are just a few:
The pressure on the wide area network (WAN) is the most significant problem. Even if employees use a company smartphone, they likely also carry their personal smartphone into work with them and both phones immediately pick up the Wi-Fi when they walk in the door. In a retail situation, management is also challenged to handle the use of bandwidth by customers shopping in the store, where holiday shopping can put serious strain on the system.
Employees may download updates or new applications to their personal device that they are also using for work. Not only does this put more pressure on the WAN, but it also can create some security headaches as employees may download a risky application.
Corporations are unlikely to know how many devices are being used, and by whom. It can be challenging to predict how much bandwidth is needed and when that amount will be used.
The Solution: Managed Services
Companies often place applications in the cloud without realizing their impact on the WAN. Applications that are used daily, those that have frequent logins or regular downloading of data may not be the best choices for cloud placement. It's ideal for applications that may be logged into once a week, or cold data that is infrequently accessed.
Managed services can assess the use of your bandwidth to determine when and where it is being used most. A managed services provider offers recommendations about which times of day and which types of applications are needing the most coverage with your WAN and figure out how to address the times of increased use.
There are other ways to reign in bandwidth use, too. Placing restrictions on the use of applications like YouTube and social networks reduces the strain on your WAN. Many companies require their employees to limit recreational Internet use to their lunch hour, for instance.
Are you experiencing a drain on your bandwidth? Talk with our consultants at MHO. We can provide a comprehensive assessment of your current WAN demands and make recommendations for a solution that addresses the problem without sacrificing performance or employee satisfaction.