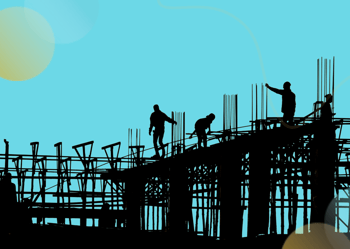 Construction projects vary greatly in size. They can be as small as a home remodel, all the way to building an enormous sports arena or stadium. What are some of the coolest 2022 construction projects?
We love unique projects and although most lists focus on just the size, we wanted to share which ones we think are the coolest.
Buffalo Bills Stadium
The new proposed football stadium complex for the Buffalo Bills is still a concept (as of a public meeting on July 14, 2022) but it is ambitious, befitting one of the most rabidly followed NFL teams in history. At a proposed cost of $1.4 billion, the new arena will be built across the street from Highmark Stadium on Abbott Road between Southwestern Boulevard and Big Tree Road and encompass 283 acres. The proposed site plan includes a large plaza leading to the stadium from the northeast, a new operations building to the south, and several new parking lots. Considering the huge fan base in NY, this is certainly one of the coolest 2022 construction projects.
Jihan Ribbon Park - China
This new 2022 construction project is a concerted effort at green infrastructure, combining a natural beauty space with essential storm drain channels and clean-air-producing greenery. Winding like a decorative ribbon through the city of Jinan in eastern China, this two-kilometer path will tie the Willow Promenade and Lotus Lake with a new transit pavilion and retail center. This project intentionally reclaims land from this once heavily industrial area so residents can better connect with nature.
Laguardia Airport Renovation
The seven-year process of renovating one of the world's busiest airports will be completed in 2022. Laguardia International Airport, named for famed New York Mayor Fiorello Laguardia, is enjoying an $8 billion overall facelift that includes new amenities, art, security upgrades, and improvements to reduce delays for travelers. Once saddled with a bad reputation, Laguardia will now be a model travel hub, including a new LEED Silver certified energy efficient terminal. Notably, the project boasts 30% MWBE (minority/women-owned business enterprise) participation, which means it employs many minority staff both during the construction phase and as the airport reopens for full operations.
Plant Vogtle
This ambitious 2022 construction project will result in the largest nuclear power plant in the United States and is already the largest construction project in Georgia. These are the first nuclear plants to be built in the US in over 30 years. Costing a whopping $30 billion to build, both units of the project will provide power for over 1,000,000 homes and businesses, as well as providing 7,000 construction and 800 ongoing jobs. This project is only two of six planned AP1000 nuclear plant projects planned worldwide.
Charenton-Bercy Redevelopment Tower
The 180-meter-tall Charenton-Bercy Tower is designed to achieve net-zero energy, as well as be a beautiful, low-rise circular building that will form the heart of a new tech hub connecting eastern Paris with the suburbs. The tower itself will be a mixed-use facility that includes loft apartments. The entire complex will feature a fitness center, public pool, primary school, hotel, landscaped garden spaces, and rail transit lines connecting the complex with inner Paris. Notably, the tower will also house designers and developers that focus on VR, AR, and CGI animation for video games and other applications.
California High-Speed Rail
This hotly contested construction project may never see full realization, but at least a portion between Merced and Bakersfield is underway. As the estimated total cost spirals past $98 billion, Californians wonder if the project is really worth the price. Intended to connect major city centers across the state, most of the sections of construction have been halted for various reasons. Dubbed the "Train to Nowhere," this massive boondoggle may never get off the ground, only serving to fund construction jobs while wasting massive amounts of taxpayer funds.
Sanborn Solar Facility
This entirely cool 2022 construction project is a huge step for green energy solution advocates. The Edwards Sanborn Solar Storage Facility will become when completed in 2023, the world's largest solar-plus-storage project. Located in Kern County, CA on land leased from Edwards Air Force Base and a plot of private land, the project boasts a huge clean energy potential. Estimates are for a storage capacity of up to 1,118MW of solar photovoltaic (PV) and 2,165 megawatts per hour (MWh) that will power over 150,000 homes and businesses. It is also estimated that the site will reduce CO2 emissions from traditional electricity generation by 307,000 tons.
University of Illinois — First Zero Carbon Building
The Campus Instructional Facility, or CIF, is the newest building at the University of Illinois and aims to model the latest in zero carbon emissions, helping to fulfill the university's aim of reducing carbon emissions and becoming more environmentally friendly. The CIF will house instruction and collaboration spaces of various sizes, a huge gathering space to promote community, a multi-story staircase, and many innovative technologies for advanced, hands-on learning. Most notably, the CIF is a totally electric building with an underground heat exchange system that will meet about 65% of the building's energy needs.
Interested in how your 2022 construction projects can benefit from high-speed, fixed wireless Internet and networking solutions? Contact MHO today for more information.