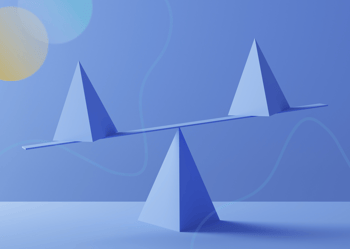 At this point, we all know the story of the pandemic and the changes it brought to the future of work. Perhaps at the top of the list of changes is the growth and permanence of IT hybrid work. Recent data seems to support the premise that it is here to stay.
74% of U.S. companies are using or plan to implement a permanent hybrid work model.
44% of U.S. employees prefer a hybrid work model, compared to 51% of employers.
63% of high-growth companies use a "productivity anywhere" hybrid work model.
55% of employees want to work remotely at least three days a week.
Companies' average IT spending went up 6.7% from 2020 to 2021 as they continued to adjust to their employees working remotely or on hybrid models.
IT Hybrid Work Was Already On Its Way
Something many people forget is the migration to a more remote workforce was already on its way. It just became accelerated out of necessity. Because of this, we can fully expect that there will be a learning curve as leaders, managers, and employees navigate new dynamics that come with IT hybrid work.
Remote work brings many positives:
A sense of freedom and flexibility that allows workers to be productive at their own personal best working patterns.
Better productivity without typical office distractions.
Task and goal-oriented management.
Cost savings for the employee, such as fuel and clothing costs.
Time savings on commuting.
Cost savings for the employer, such as office space and related expenses.
Ability to spend more time with family and friends.
Unfortunately, not everything is positive. When you have a major shift in work culture, challenges will arise.
Challenges to IT Hybrid Work
In information technology, a case can be made that a hybrid work model is a viable way to work. The tasks are often things that can be done remotely, provided that the right security measures are put in place to protect intellectual property and data.
But what have we learned about the challenges to IT hybrid work?
Distractions
Working remotely can eliminate the typical office distractions, but depending on where you work, there are other distractions that can take their place. Children or other family members at home, chores, social media, and other factors can be just as distracting as people walking by your desk at the office.
Lack of Trust
Remote work doesn't facilitate the typical personal interactions that breed trust among workers like working in an office. Those brief moments of sharing can be important to breed trust and familiarity among your team members, but it is lacking in IT hybrid work environments.
Team Cohesion
In spite of all the collaboration tools available to hybrid workers, team cohesion is still a large problem to surmount. Without personal interactions, team cohesion doesn't happen naturally and must be structured, planned, and created through other means.
Pressure Over "Digital Presenteeism"
About 54% of IT hybrid workers feel pressure to demonstrate their availability online at certain times of day, in order to please their employers. This robs hybrid workers of a significant benefit, the ability to schedule work during their own most productive hours.
Too Much Tech Connectivity
We want teams to be connected, but numerous notifications from several digital tools can become a significant distraction that prevents productivity instead of enhancing it. Add to this expectations from employers about the time needed to respond to emails or instant messages, and the problem only gets worse.
Promoting More Asynchronous IT Hybrid Work
Understanding where gaps exist, you can now look into how to make remote and hybrid work viable. Here are some valuable recommendations.
Model the Correct Behaviors
As an employer, demonstrate how you expect your employees to work, communicate, respond, collaborate, and more. Establish clear procedures and then follow them to lead by example.
Focus on Output
Allowing the flexibility of a hybrid work model means letting go of certain traditional factors like time at work or time spent on a task and focusing instead on results. Assign tasks and focus on the output your employees produce.
Set Expectations
Set clear expectations from the beginning for your hybrid team. Include your focus on output and results, communication protocols, and other vital collaboration processes. You should also establish productivity expectations, such as meeting deadlines and documentation requirements.
Hold People Accountable
Make sure everyone follows established guidelines and meets expectations, from the top down. Clearly outline ways you will do this and even ways you will hold employees accountable.
Minimize Distractions
Choose the fewest and best tools to help your team and ignore all the others. Be deliberate in how and how often you set synchronous meetings and communications. Maximize your team's freedom to work at their best.
Emphasize Documentation and Data Accessibility
Teams working in hybrid environments and at different times must document work and communications to prevent data and context loss. Sharing work and making it accessible are keys to successful IT hybrid work.
Empower your team with robust connectivity from MHO. Contact us today for information and networking solutions for your business.